As much as it would be easy to let panic set in, Team New Zealand will attempt to approach tonight like any normal night during this America's Cup.
They will have headed back to their base and had a debrief like they have done after every day in this campaign, dating back to the beginnings in Auckland.
They will have talked about what went wrong in today's 16th race (most of that would have centred on the start) and what went right. They will check the weather forecast. They will consult with the shore crew who will configure the boat for tomorrow's expected conditions and will try to get a good night's sleep.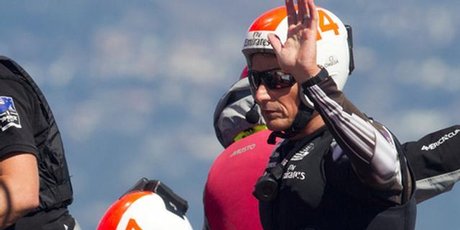 Most importantly, they won't try to re-invent the wheel and will trust their systems, processes and people.
"There are no big tricks,'' said designer Mike Drummond, who has been involved in four winning America's Cups campaigns. "Team New Zealand, I'm sure, have had their foot forward the whole time. It's not like they are going to go in the shed and say, 'OK, now we pull out our magic piece of equipment'.
"They have done a lot of sailing and considered a lot of design aspects. I think it will be a fairly normal night in the shed. They will consider the forecast for tomorrow, their strengths and weaknesses and decide the best equipment to have on the boat to improve their chances of winning.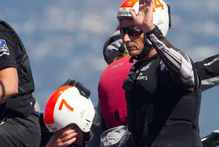 "You can always come up with a new idea for doing something but you have to give them some respect. They have done hundreds of hours of sailing. It's not like they are just floundering around with no idea what to do. They are sailing at a very high standard and all that has happened is that Oracle are showing their potential.''
It's that potential which could be starting to affect Team New Zealand's psyche. For the first time, skipper Dean Barker seemed to show a kink in his normally impenetrable armour when he gave out a big sigh and slumped his shoulders as they finished 33 seconds behind Oracle in today's only race.
Sports psychologist Dave Hadfield said it was critical Team New Zealand focused on performance and the things they can control.
"You have routines, you do things the same way, you check off everything you can,'' he said. "Then once you get in competition, you stay focused and calm and read your data and focus on what you are doing.
"But we are human beings. From [a scoreline of] 8-1 to 8-6, there's the potential for them to start thinking, `Bloody hell, it doesn't look like we can beat them, we're going to be chokers'. If you start going into that mode, that's hugely problematic because it has the potential to take your focus away from what you are doing. John Milton said in his poem Paradise Lost, 'The mind is its own place and can make a heaven of hell and hell of heaven'.''
Drummond doesn't think Team New Zealand are likely to over-think what has happened and will attempt to look forwards rather than backwards.
"They [won't] sit around and dwell on it. Dwelling on that sort of pressure doesn't help you turn your winch or choose a windshift or steer the boat. They will try to eliminate mistakes and focus on their performance.''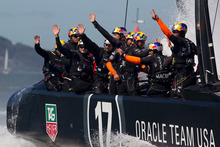 Yachting commentator Peter Montgomery, who would have bet the house on a Team New Zealand win when the score was 8-1, said they will fight hard for their last point and the key was to keep things simple.
"I would not expect they would be thinking they are ready to walk the plank and allow the greatest comeback in sailing, if not sporting, history,'' Montgomery said.
"They know they are up against a team with momentum, but they have to believe. The boat is clearly fast enough and they know they can still do it. They still have to be positive about it and give themselves a chance because Oracle still have to win three races and Team New Zealand one.''