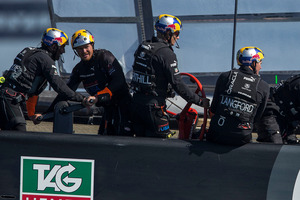 Kiwi punters have jumped ship and are backing Oracle to win the America's Cup.
Starting with a $10,000 splash, the TAB took 30 bets in a row on Oracle to win the America's Cup yesterday morning and the money backing an American victory continued to pour in all day. Before yesterday's racing Oracle was still a rank outsider to win the Cup at $7. But by yesterday evening the odds of the Americans completing one of sport's great comebacks had shrivelled to $2.85.
Once unbackable favourites, the Kiwis drifted to $1.37 to win the one race needed to lift the Cup.
The Americans also start firm favourites to win today's first race despite Team New Zealand having the favoured port entry at the start. Oracle will start the race $1.65 favourites, while Team New Zealand are $2.10 outsiders.
"We have gone from a situation where the shortest price Team New Zealand were to win a race was $1.09 and now they are $2.10 outsiders," TAB yachting bookmaker Kieran McAnulty said.
Oracle's favouritism was as much a reflection of the amount of money bet on them as their dominance on the water yesterday as they closed the score to 8-5 in the race to nine wins.
"It's not only the likely outcome, it's also where the money is going," Mr McAnulty said. "The big story here is that we are just taking so much money on Oracle.
"It is mayhem here."
The TAB stands to make a huge loss if Oracle does complete the fairytale comeback. However, Mr McAnulty was confident Team Zealand would get the job done.
"For us, with Team New Zealand needing only one race, $1.37 is a good price. But punters say they want Oracle. The last 30 bets in a row have all been on Oracle to win the America's Cup. That is amazing as we had closed this book.
"Oracle have won four in a row now. I know things have gone against Team New Zealand but that just adds to the drama of the tournament.
"To think that we have gone from almost capsizing to almost winning it only to be called back because it took too long, it's quite phenomenal really."
Many punters were likely backing Oracle so they would at least make some money if the worst happened and Team New Zealand lost.
"'If New Zealand is going to lose I may as well make some money out of it' was a common approach," Mr McAnulty said.
"It's funny how people think when it comes down to the wire. But, look, this is 8-5 now. It is genuinely anyone's game.
"I'd be putting a pretty hefty amount on Team New Zealand. But at the moment it is a steady tide on Oracle."