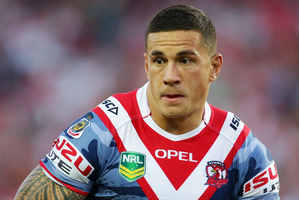 My love affair with the Sydney Roosters is unquestioned and I will support them every week they play.
So it will surprise many when I predict they will not win the 2013 NRL grand final. They do not have the history as a team to battle through the rigours of semifinal football on and off the field.
They have individuals who have played test, State of Origin and other representative football but, as a unit, they haven't experienced sudden-death football and the longer you survive, the more the pressure intensifies.
During the season, this team played some enterprising and desperate football to win some classic matches, but without the external pressures of finals football.
When comparing the Roosters with the Rabbitohs, who were in a similar position 12 months earlier, Souths have the disappointment of 2012 to harden them against the pressure.
Even if both make the final, the last week is magnified another 500 per cent, with media attention, expectation and the grand final breakfast. Around this, you have to concentrate on the so-called 'routine preparations'; it's demanding and another world.
I have higher expectations for Manly and Melbourne because these two teams have been there, done that in all facets of finals footy, including grand final week.
Since 2006, the majority of this year's Melbourne side have played five grand finals and six of the seven finals campaigns.
Over the same period, Manly have played three grand finals and all seven campaigns, with a large contingent of their team having played in nearly all of them. It's hard to compete with this experience.
Then look at the coaches of those teams: Geoff Toovey has been either assistant or head coach and Craig Bellamy - well, his name is synonymous with finals and Melbourne.
The respective Rabbitohs and Roosters coaches Michael Maguire and Trent Robinson are highly-rated but novices in comparison.
The Roosters can't compete with these numbers and only Anthony Minichello has significant experience. He has seen more finals footy than the rest of his team-mates combined.
There is energy and enthusiasm, there is confidence and there is Sonny Bill Williams but they also need calming influences when pressure is applied during the battle.
Mitchell Pearce has quietened his critics with calculated displays since floundering on the Origin stage but he exhibits panic at pressure points; it's time for him to stand up.
James Maloney doesn't get flustered but if left to do it all on his own when Pearce panics, it will become too much for him. He can't create play as well as make line breaks off the forwards.
This is the dilemma when your heart wants something but your head is telling you something else.