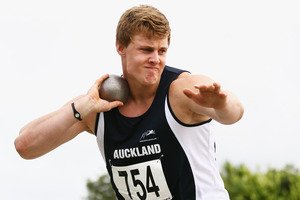 A reshuffle in New Zealand shot put prodigy Jacko Gill's coaching set-up will see former Commonwealth discus champion and leading businessman Sir Les Mills take a central role.
Gill, who set the world junior record of 23.00m with the 6kg shot at the Millennium Track on Auckland's North Shore last month to complete the full set of global age group records, has been forced into a realignment of his coaching team after his former lead coach Courtney Ireland moved to Singapore last month.
The Takapuna-based athlete will retain the services of Ireland, the 1994 Commonwealth Games shot put silver medallist, as a technical adviser by sending regular videos of his training sessions.
Meanwhile, Gill's mother Nerida, herself a former New Zealand discus champion, will continue to act as a sounding board for her son.
However, it is the role to be taken by Mills, a former coach to 1997 world discus champion Beatrice Faumuina, which is perhaps of greatest significance.
"I hope to get a little bit more help from Les," says Gill. "In the past, he has helped me on and off, but it has been very much part-time but I haven't seen him for three or four months. He's a very smart man, a very knowledgeable man, and the kind of man you would want around your training."
Mills, now aged 78, is perhaps best known for giving his name to the Les Mills gyms founded by his son, Phillip, but he too enjoyed a long and successful career as an international athlete. He won five Commonwealth medals in shot and discus during 1958-70 and also competed in four Olympics.
Besides coaching Faumuina, he also guided the career of New Zealand discus record holder Ian Winchester and led Jordan Vandermade, now better known as a TV presenter, to a world junior decathlon bronze.
His presence in Gill's corner as he prepares to step up into the senior ranks next season will be crucial and Gill is looking forward to Mills' advice.
"He has accomplished so much in his life and it is great that he now wants to give that little bit back," says Gill. "He's a very good coach and I'm really privileged to be on the end of that."
Gill bettered reigning world senior shot put champion David Storl's world junior record with a 23.00m put in August to end a troubled 2013 on a high.
The teenager has struggled with a long-standing ankle problem, suffered an injury to the face following a domestic dog attack and also had to cope with his father, Walter, suffering a heart attack in February.
Yet with the ankle now on the mend, he can look forward to next year, when he will pitch himself up against the world's top seniors.
Unbeaten as a junior for three years - his last defeat was inflicted by Poland's Krzysztof Brzozowksi at the 2010 Youth Olympics in Singapore - many would view his elevation into senior competition with the 7.26kg shot as a test more of his mental than physical strength.
Gill, however, believes the switch into senior competition will relieve rather than add to the pressure.
"I'm probably going to go into a situation where I'll be ranked around 50th in the world for the shot [his PB and New Zealand record of 20.38m with a senior shot set in 2011 would rank him 31st in the world for 2013] whereas as a junior I was ranked No 1 in the world and if I even lost a competition, I'd be seen as a failure," he says.
"Now I'm the guy who will not face the pressure of having to win every competition. It should be pretty cool."
Next season he hopes to compete in at least one Diamond League competition, the elite one-day competition in athletics. However, the main goal remains the Commonwealth Games in Glasgow next July.
His lifetime best and national record would rank him sixth in the Commonwealth this year and he urges caution in a competition likely to include Commonwealth No1 Dylan Armstrong (21.45m) of Canada, who won the bronze medal at the world championships in Moscow last month.
"There are three of four guys out there [in the Commonwealths] who this year threw more than 20.75m, so it is going to be a very good standard [in Glasgow]," he says. "I don't want to place too many expectations on myself. Throwing with a 7.26kg shot presents a different challenge."