Organisers of annual event at Viaduct say it's more interactive this year, with on-water demos, seminars and competitions on offer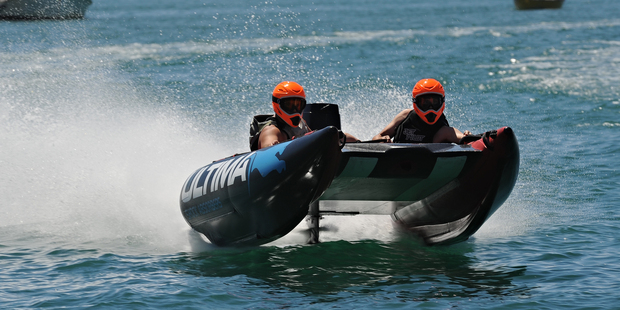 Organisers of this year's Auckland On Water Boat Show are promising a more interactive show than in previous years, with powerboat and paddleboard demonstration races, a detailed seminar programme and a "have-a-go" sail grinder.
The show, which is being staged in the Viaduct Events Centre and Viaduct Harbour, opens this Thursday and runs until Sunday. Both the demonstration races and the seminars will take place at the weekend.
The powerboat and paddleboard "races", for example, will both be on Saturday unless bad weather strikes, in which case they will be held on Sunday instead.
On Saturday, the on-water action will get under way with a series of Thundercat races, the first beginning at 12.30pm.
Thundercats, best known for their thrilling close-to-shore beach racing, usually compete throughout the summer at popular holiday spots such as Whangamata, Omanu, Waihi Beach, Waipu, Papamoa, Pauanui, Orewa, Takapuna, Piha and Mt Maunganui.
Powered by Yamaha and Tohatsu 40hp and 50hp outboards, Thundercats are tunnel-hulled inflatables that carry a driver and a co-pilot, the latter using his or her weight to stabilise the craft and ensure the best possible speed.
Because the Thundercats will be "racing" in the confined space between Halsey and Wynyard wharves (and just off the popular Wynyard Quarter restaurant precinct), they will limit their speed to just over 16 knots (or about 30km/h).
"We are expecting up to eight of the fast inflatable speedsters to compete in three very exciting demonstration races," says show chief executive Michelle Khan. "That will be followed by a further three demonstration races by the New Zealand Power Boat Association's Junior Class."
Open to those in the 12-15 age group, the Junior Class is a free hull design class with stock-standard outboards or inboards up to 25hp. Speeds will again be limited to around 16 knots and about six junior competitors are expected to take part.
Both the Thundercats and the Junior Class boats will be craned in and out of the water from Halsey Wharf, a process scheduled to take about an hour each way.
About an hour after the powerboat racing concludes, a series of stand-up paddleboarding demonstrations and races will be staged in Viaduct Harbour, in front of the Viaduct Events Centre.
Organised and run by Neil Pollett of Flux Stand Up Paddleboards and Bill Dawes of the NZ Paddleboard Company (and president of NZ SUP), these will involve up to 60 participants and consist of a series of heats, two semifinals and a final.
Pollett says the one-design event, using RED Paddle's 3.8m boards, will see participants paddle around a short course inside Viaduct Harbour, beside the boats on the marina.
He is expecting to have a mix of experienced and relatively new male and female competitors for the event, which is scheduled to start at 3pm and finish at 4.30pm.
"There will also be Stand Up Paddleboarding Yoga demonstrations by the tidal steps, next to the pedestrian bridge, around noon on both Saturday and Sunday," he says.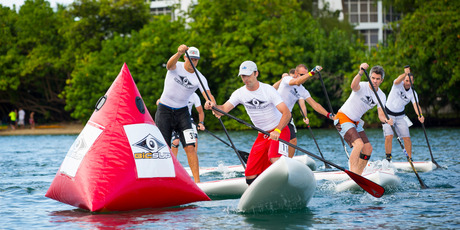 Show organisers have also shoulder-tapped a number of experienced mariners for a nine-seminar series that will run on the second level of the Viaduct Events Centre from 11.30am to 4pm on both Saturday and Sunday.
"Topics include the basics of learning to sail, from the Royal New Zealand Yacht Squadron; finding out more about blue-water or offshore racing, from the Royal Akarana Yacht Club; and some great fishing tips from the enthusiasts at Sailors Corner," says Khan.
Other topics include powerboat engine maintenance, learning to sail and how to get a job in the marine industry.
Khan says visitors to the show can also test their strength and speed on the interactive "sail grinder" machine.
"This is on the New Zealand Sailing Trust stand and visitors can also find out how the trust, inspired by the adventures of Sir Peter Blake and his racing teams, actively encourages young sailors to enjoy their own great adventures on famous yachts like Lion New Zealand and Steinlager New Zealand."
Khan says visitors to the show will also be able to enter a number of competitions.
"These include a 'buy two or more tickets to go in the draw to win one of six rod and reel packages worth $250 each, courtesy of Sailors Corner' offer for online ticket purchasers and a draw to win a fantastic week-long sailing holiday in Tonga courtesy of The Moorings for those who complete the show visitor survey," she says.
The Royal New Zealand Yacht Squadron will also have both the current and older versions of the Louis Vuitton Cup, both of which are held by Emirates Team New Zealand (and perhaps another even more prestigious Cup) on display, upstairs in the Viaduct Events Centre.
Khan says she is hoping Aucklanders will join show organisers and exhibitors in celebrating the achievements of Emirates Team New Zealand with the Royal New Zealand Yacht Squadron, the official challengers for the 34th America's Cup.
Tickets to the show, which is celebrating its 15th year, are available either online (for $18 each) or at the gate (for $20 each). Children under 15 are free.


Event information:
Auckland On Water Boat Show
Dates: September 26 to 29
Times: 10am to 6pm Thursday to Saturday, 10am to 5pm Sunday
Tickets: Online from iTicket.co.nz or at the gate
Prices: Adult (online) $20, Adult (gate) $20; Children under 15 free
Entry: Main entrance, Viaduct Events Centre
Parking: Wynyard Quarter Car Park or Downtown Car Park (and walk over the footbridge)