Leadership group adds muscle to Steven Kearney's title defence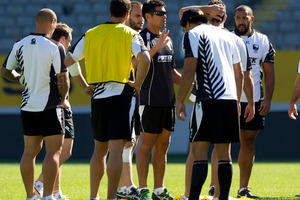 Often contenders but hardly ever defenders: that is the story of New Zealand on league's international stage. Not this time, however, with the Kiwis and coach Steve Kearney about to embark on their World Cup defence.
Having broken Australia's World Cup dominance in 2008, and with increasing NRL playing riches to choose from, Kearney's Kiwis will head to the tournament in Britain, Ireland and France full of optimism.
Kearney reveals his 24-man side on October 8 for the five-week tournament, which starts next month. He chats to the Weekend Herald.
How is it working out at Brisbane after a couple of very tough years coaching the increasingly infamous Parramatta Eels?
The last two years took a fair bit out of me and the family. This is a great fit, taking a bit of a back seat, re-establishing myself, picking myself up, dusting myself off.
The rise of the Kiwi influence in the NRL must make for exciting times?
It has been a progression, ever since I took over five years ago. Back in 2008, if we got injuries in certain positions we were in big trouble. If Benji had been unavailable back then, it was panic stations.
How much contact do you have with the Kiwi players and prospects?
When the Broncos last played the Bulldogs, for instance, I caught up with Sam Kasiano, Krisnan Inu and Sam Perrett who played that day. We met with a group of about 15 players in Sydney two months ago.
Over the past 18 months we have been putting a leadership group together ... just because someone has played 25 tests you can't take it for granted they know how to lead. We've been using an external resource to help there.
Who is in the leadership group?
There are five players ... do you mind me not saying who they are? They are the guys who've been around a while. It's something we decided internally - I didn't pick the group. We are also developing a second leadership group.
Who did pick the group?
You want all my secrets?
Sonny Bill Williams - have you got a World Cup commitment from him?
Have the Roosters, the Chiefs, the NRL, the All Blacks got a commitment ... we're all in the same position. I'm in regular contact with his agent but it is down to factors that have yet to unfold.
What role will your new assistant Ivan Cleary have?
With Tony Iro moving to manager it was important to have someone to help me out for the six- or seven-week campaign. Ivan will look after the attack, the backs, the way we receive kicks, the kicking game. It was Tony Iro's idea when we were thinking of candidates and I thought it was a perfect fit. Ivan was honoured and chuffed about the opportunity and I'm really looking forward to working with him.
Ivan, Tony, yourself - you all have level personalities ... Is that a good thing or bad?
Everyone is different in how they go about coaching or managing. If players need a kick up the backside, it will happen. I believe there is a good mix of personalities there.
What challenges or hurdles does a European tournament present?
The last two occasions we've gone up there (for the Four Nations) we've been largely unsuccessful. There were a number of reasons and without making excuses, we had a lot of players unavailable. This time we will be taking a very strong Kiwi team. The development of the team, the leadership group, the type of players we have now ... young guys like Kieran Foran, Jesse Bromwich and Dean Whare really want to do well.
A lot of people will assume the World Cup will come down to a Kiwis-Kangaroos final ...
We don't play Australia or England in our pool so I haven't given either much thought. I know what Australia and England will pose. With the Burgess brothers, James Graham, Kevin Sinfield, Sam Tomkins - they're going to be as good as the Australians if not better. I really think it is the best English side I've seen in a long time. But my focus is on the teams in our pool and getting the side right for the opening match against Samoa. Any team with Jeff Lima, Reni Matua, Roy Asotasi, Steve Matai, Ben Roberts and the like is going to be a force. The fans up there will side with the underdogs ... when we played Tonga at Warrington in '95 you could tell who was the crowd favourite all right.
And you almost lost that ... moving on, is there anything you would like to change in league?
International allegiance was always an issue but the new rules coming in are close to how I think it should be. If a player comes to Australia after the age of 13, they can still elect to play for Australia but can't play State of Origin. That's definitely a positive for us. I also believe Maori and Pacific Islanders need a voice on the NRL Commission. Thirty per cent plus of players in the NRL are Maori or Pacific Islanders. They need a voice.
Eden Park is becoming league's home, almost by default. Any thoughts?
You have to look at what the other options are. We had 36,000 at our last test so from an international point of view I think it is a good fit. As for the Warriors, playing every week at a 50,000 seater stadium ... I'm not so sure that's the answer.
What is your vision for the Kiwis?
Our NZRL vision is that in three or four years, all the Kiwis will be in the top 10 per cent of players at their respective clubs.
You are going to have to be that good to play for us. We can't sit on our hands and expect it to happen ... it will take a lot of hard work and planning.