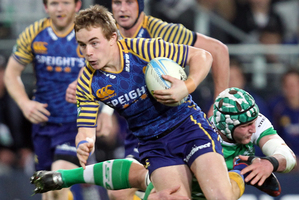 Otago 52
Manuwatu 41
Brilliant attack or dud defence. Take your pick. Otago kept their championship semifinal hopes on a simmer winning a free-for-all over Manawatu in Dunedin.
Otago forward TJ Ioane's match-sealing try summed up the night, as he swatted of three half-hearted tackles in the ITM Cup victory.
Tit for tat. Anything you can do I can do better. Could someone please make a decent tackle followed by another one.
That was the general drift right from the opening minutes. Otago flanker Gareth Evans charged through the Manawatu defensive line without a hand being laid on him for the first try. Everyone else took note, and followed suit.
Manawatu levelled a few minutes later and the carnival was on. Even Manawatu replacement Nic Malo got in on the act. He'd only been on the field a few minutes when Jade Te Rure hopped through yet another big hole and Malo finished it off as 63 points were scored in the first half alone.
A hectic cup schedule and tiring players equalled a lack of application on defence in this case. There were some excellent moves, and one of Otago's tries came from a smashing Buxton Popoali'i tackle.
But the first half tipped past the credibility point, and entered a sort of sevens zone.
The best saves of the night came from the video referee Doug Rodgers who rubbed out a try to Manawatu prop Chris Eves on a marginal ruck call, and made another tough call against Otago's Peter Breen. Just about everything else was gift wrapped, especially in the first half.
Scorers:
Otago 52 (Jayden Spence 2, Peter Breen, Gareth Evans, Buxton Popoali'i, TJ Ioane tries; Hayden Parker 5 con, 4 pen)
Manawatu 41 (Callum Gibbins, Papa Wharewera, Nico Malo, Tevita Taufui, Leroy Van Dam tries; Jade Te Rure 5 con, 2 pen). HT: 36-27