The 2013 America's Cup is still firmly PJ's Cup, say our readers.
We decided that after a fortnight of having commentators shout, bellow and sigh their way up and down wind with Team New Zealand, we would rate the people on our radio and TV feeds. We gave Peter Montgomery, PJ to his radio listeners and "The Voice of the America's Cup" to his fans, just 5/10.
We gave top marks to Toni Street. Our readers rate PJ.
So, here's your views and our views.
Your View
You still love him, you really do. Our poll of who is the best commentator at the America's Cup has Peter Montgomery so far in front that if this was a Cup race, he'd have brought it home for Team New Zealand by now.
PJ got 40% of the vote on an nzherald.co.nz poll, well ahead of Peter Lester in second place and miles in front of the chasing pack. (You can have your say on the poll on this page)
PJ supporters were out in force on twitter today. Michael Oliver tweeted that Montgomery is "without peer" while Simone McCallum said she had switched to listening to the radio commentary of the Cup with the TV sound off to listen to him.
There was even speculation what Montgomery will say if Team New Zealand finally win the Cup to top his 1995 classic line.
Our View of the commentators
• Peter "PJ" Montgomery - Still the voice of the America's Cup, mainly because of the number of words per minute. Nation wakes today on tenterhooks if he can top his "America's Cup is now New Zealand's Cup" line from 1995. On present form rated unlikely. But having exited our TV screens some time ago, Mr Yachting can still sound excited and excitable on the radio. The man can make an impending postponement sound like the most exciting thing since, well, the last postponement. Marks off for obsession with the length of time it takes NBC's commentators to ask a question. Repetitive. Rating: 5/10.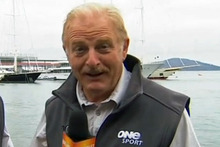 • Martin Tasker - Survived the brouhaha over his post-race open mic plans to "do" a female Israeli journo. Provides polished reports before and after races but seems to struggle when there's salt in the air. Literally breathless with excitement at times. Likes camera 7 (under the bow). A lot. It's been a long regatta for Tasker, TVNZ's lone reporter on the ground for months and it's showing. Spent a good 30 seconds of yesterday's race in debate with booth-mate Peter Lester about what day it was. Rating 6/10.
• Chris Dickson - TVNZ's back-to-studio comments man still has that intense gaze that New Zealanders have come to know. But looks relaxed and happy. He's good on explaining the technical stuff and adds a bit of history to the show. Rating 7/10.
• Craig Monk - The former Team New Zealand grinder and Artemis man has offered sharp analysis while sitting alongside Montgomery for RadioSport. He has a happy knack for communicating the fiddly business of what's going on - it's no surprise many TV viewers have opted to flick on the wireless to hear this bloke's insights. He seldom gets a word in against PJ, but tends to be the voice of sanity when he does. Rating 8/10.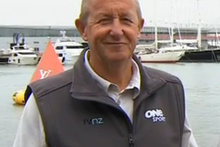 • Peter Lester - Sees stuff none of us see and calls it early. Pitches it well to an audience who might not spend their weekends honing their lee-bow tacks. Does a good job of picking momentum shifts but veers dangerously close to crossing the line from commentator to pompom waver. Rating 8/10.
• Toni Street - TVNZ reporter on the ground with the challenge of keeping Tasker upbeat. Bright, succinct and asks incisive questions. Handles all the live crosses with aplomb even in the high wind. Manages to look professional even when windblown. Rating 9/10.