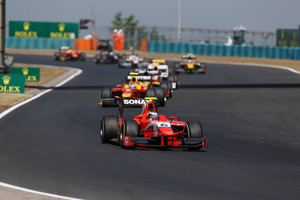 GP2 driver Mitch Evans has only two rounds left in his first campaign in the category in which to make an impression on the points table.
The Aucklander has had a torrid time of it lately, through no fault of his own, and is looking for some big improvements in the car this weekend at the Singapore Formula One Grand Prix.
For the second year in a row, the GP2 cars will race on the Marina Bay street circuit with its 23 corners to keep the drivers busy.
Teams will have to pay careful attention to tyre wear, as Pirelli has nominated the same combination as used in Monza, Italy - yellow soft and red super soft compounds.
Evans dropped to 13th in the championship after another fraught weekend last time out in Monza, where the car wasn't up to it.He may be out of the race for the title but it's tight at the top of the leader board, with only six points separating frontrunners Fabio Leimer and Sam Bird.
The pair will have to keep a wary eye on those behind as three drivers have a a mathematical chance of snatching the title if the leading two crash.
Overtaking can be difficult on the Singapore track, so extra importance will be placed on qualifying.
And it's in qualifying that Evans and his Arden International team have struggled to get the car right.
"For the last two races we've had different tyres [construction not compounds] and now we're back on the original tyres from the start of the year that were working all right for us," said Evans from Singapore.
"Hopefully that will help us out. All our preparations have been okay but we'll just have to see what happens when we get out on the track.
"I haven't been to this circuit before so I'm hoping I can learn it quickly and start to put in some good lap times."
He said being new to a circuit had worked for him a couple of times, "but whatever happens I need to have a good car underneath me".
Having a good car is the key, and it seems the Arden crew has been struggling to find the sweet spot in the car setup early in a race weekend.
The drivers don't get long in practice to get the cars ready for qualifying, so getting a good setup early is vital - and it is something Arden haven't quite nailed for Evans in recent times.
The Kiwi has always qualified well in whatever category he's raced, and his position back in 15th or so as he was in Monza isn't an indication of his proven speed.
"There have been a lot of tracks I was fast at last year that I haven't been fast at this year because the balance of the car hasn't been right," he said.
"It's so important these days to get everything right because it's too hard to drive around problems and still be quick, especially at this level of racing where everyone's so close.
"Hopefully we'll find a good sweet spot this weekend and we'll be all good. Recently it's probably been the lowest part of my career in terms of outright speed and performance. Apart from this year I've never, ever qualified outside the top 10.
"Normally qualifying is my strength, but this year it's been awful and one of the most frustrating things. Trying to race forward in GP2 is the hardest thing ever. There's also been a few races where things have just not gone our way."
The team appear to be struggling to get the car balance right for both their drivers, as Evans' teammate Johnny Cecotto is also struggling with his car despite having a few seasons in the category under his belt.
Hopefully this weekend Arden can give their two drivers a setup that will enable them to showcase the talent they have.
Said Evans: "I am frustrated with the car, but, as always, I'll be giving it my best. I don't want to be at the back.
"I hope this weekend we can get back on the fast page and with being back on the old tyres we could be in with a chance.
"If I have a car underneath me that I can work with I reckon we'll be there or there abouts."
Standings
GP2 championship after nine rounds
1. Fabio Leimer 159
2. Sam Bird 153
3. Stefano Coletti 135
4. Felipe Nasr 130
5. James Calado 119
6. Tom Dillmann 84
7. Stephane Richelmi 83
13. Mitch Evans 56