NZ's formula for getting value from a win - keep the big fast cats but don't lose the mystique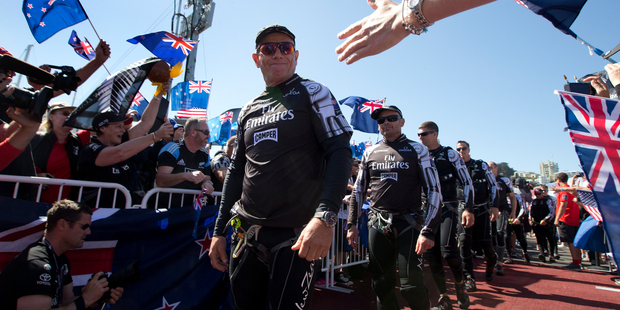 Match point can be the hardest to win. Anticipation makes some players choke, drop serve, let a tough competitor back into the match. Dean Barker's demeanour says he is not a choker.
So let me in anticipation ask the question, what are we going to do with the America's Cup? As exciting as it has been, for us at least, the truth is, the world isn't watching.
The rest of the world has never watched in the way we have and Australia did when it was the first to lift the grand old trophy from the New York Yacht Club. This is not a problem as long as we recognise that the grandeur of the America's Cup lies in its obscurity.
All the world has heard of it, but catches only the occasional glimpse of it on a television bulletin or, more likely, in the glossy advertising pages of stylish magazines. It is in there with expensive watches, top marque cars and perfumes worn by sultry women in filmy gowns.
Even before the beautiful boats became billboards for luxury brands, the America's Cup had the mystique of a world beyond reach. It was a fleeting picture in the paper every four years, two big yachts looking sleek and ghostly on an ocean.
New Zealand can capitalise on the mystique, but not by making the event cheaper. It would be a mistake, I think, to scale back the catamarans in the hope that Auckland will attract more entries. It was fun having so many syndicates here in 1999 and 2003 but we have done that.
We have experienced everything the America's Cup has to offer a host in its present format. We know what it means to win it for the first time, build a new yacht harbour, defend it successfully and lose it to a challenge led by our previous helmsman. No other country knows how that feels.
Look what Sir Russell Coutts has done for us. Two New Zealand teams are competing at San Francisco, just as there were two at Valencia.
Coutts took most of his Kiwi crew with him to Alinghi and then to Oracle. Check out all the crews. Our sailors "own" this thing.
It was interesting to read this week that Oracle's Australian skipper, James Spithill, has heavily invested in Auckland property, including a house in the same Herne Bay street as Barker. Sailors may see Auckland's position in their profession more clearly than most of us who live here.
The America's Cup has been good to Auckland; without it we would not have the Viaduct.
It is conceivable a second coming of the America's Cup could remove the Tank Farm at last and inspire a piece of architecture worthy of Wynyard Pt.
Sir Grant Dalton, as he assuredly will be, might not appear to have the pulling power of his old ocean-racing rival, Sir Peter Blake, but he has proven with this campaign that he comes close. If Blake could get public finance for the Viaduct in defiance of economic policy orthodoxy in the 1990s, Dalton can surely get the Tank Farm evicted before its lease is up.
Dalton would be dealing with a government more willing to influence business investment than any we have seen since Muldoon. Its portfolio of chosen winners includes an Auckland conference centre, the Bluff aluminium smelter and a $1.5 billion ultra-fast broadband project which, it turns out now, is probably going to make all internet connections more expensive than they need to be.
A government with such confidence in its own business sense, and such little regard for economic efficiency, will not think twice before putting public money into a new party central for the America's Cup. Kiwis returning from San Francisco give glowing accounts of the spectator facilities there.
But none of that would enable the country to capitalise on the real value of the America's Cup. To do so, the holders should first devise a format that can reinforce the Cup's grandeur and mystique without losing its newly discovered spectacle of match racing at high speed.
And if they can do that, government leadership may be needed to see that New Zealand and its finest products - only its finest products - are promoted on the Cup's image of quality and class. We have products that can stand in that company and the Cup could be the spur to develop more.
Above all, we are genuine. New Zealand wins the America's Cup in boats, not courtrooms. It is a pure and honest place, as clean as you can find, and quietly good at what it does. That is what the Cup can subtly tell the world, because it's true.