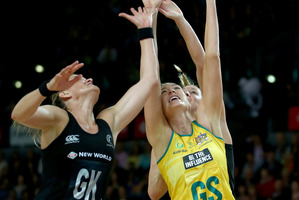 Silver Ferns coach Wai Taumaunu is lamenting her side's failure to string consistent performances together, following their 47-45 defeat to Australia on Thursday night.
After a strong first up victory in Invercargill there were high expectations heading into the second test but Taumaunu was left frustrated by a untidy display from the Silver Ferns.
They trailed for most of the match, undone by errors and hesitation in possession, and the close final result belied a game that the Diamonds controlled for long periods.
"[Winning consecutive games] remains a lesson that we have to learn and we just have to put on court," said Taumaunu. "We still have time and we still have three more matches. [The failure to back up] along with our error rate are the two most disappointing factors [from last night]."
The result wasn't a complete surprise - these two teams just can't be separated, with 23 wins apiece across the last decade and 16 of the last 22 matches being decided by five goals or less - but the manner of the defeat probably was.
With a chance to put the foot on the throat of the Diamonds, and cast some doubt on the future of Lisa Alexander, the Ferns came up with a patchy, inconsistent display. They were careless in possession and particularly struggled on attack. Irene van Dyk (25/29) was shut down for long periods of the second half, leaving Maria Tutaia (20/30) to shoot from distance.
"We missed too many shots [and] we threw the ball away too much," said Taumaunu. "On Sunday we had 13 errors, [last night] we had 29. It was uncharacteristic [and] very rare that we get outshot like that"
The third quarter turned out to be the pivotal period. The Diamonds won that quarter 14-9, which set up the final result.
Bianca Chatfield (three intercepts, four deflections) was immense for the Diamonds and Laura Geitz (four intercepts, six deflections) gained a measure of personal revenge from the first test, where she was replaced at the end of the third quarter.
The Ferns defence toiled well, with Laura Langman and Joline Henry provided a strong shield in front of Leana de Bruin and Casey Kopua. The home side fell down on attack - both Anna Thompson and Courtney Tairi struggled to find space and time, leaving too much of a load on Langman.
The New Zealand side now faces the unenviable task of winning two games across the Tasman to retain the Constellation Cup, as the series heads to Adelaide, followed by matches in Melbourne and Canberra.
"It is not the situation that we wanted to be in," says Ferns' captain Casey Kopua.
"[However] sometimes you need something like this to make yourself look at yourself and as a team. We need to look harder at things."