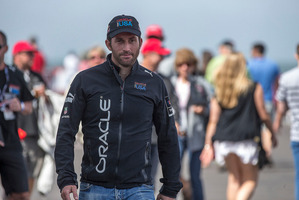 He's the first Briton to sail in an America's Cup in over a quarter of a century, and five-time Olympic medallist Ben Ainslie doesn't want to make a hash of it.
So when the Oracle Team USA tactician heard the call come over the onboard comms during the pre-start of yesterday's second race that the wind had spiked over the prescribed limit and the postponement flag was going up, he opted to ignore it.
While his team locked horns with Team New Zealand in the startbox, Ainslie, who joined the Oracle afterguard after a crushing loss in race five forced a crew rethink, didn't utter a word of what he heard until he was sure. Really sure.
After all, he didn't want to be known as the first Briton to sail in the America's Cup in over a decade as well as the man responsible for ending Oracle's Cup defence through a miscommunication.
"I heard it on the radio and we were right in the middle of the pre-start.
"I thought I'd wait until I'd heard it a few more times over the radio in case I was just hearing stuff and lost the America's Cup by the wrong radio call," he said.
While Ainslie knew the postponement order was coming, the Team NZ skipper looked utterly bewildered when he turned around and realised Oracle had pulled up just after the teams had crossed the startline.
Barker had done an impressive job of converting the unfavoured starboard entry into somewhat of a win for his side.
Positioning the Team NZ catamaran well to the windward end of the startline, he would almost certainly have rolled over the top of Oracle on the quick sprint to mark one, had the race been allowed to continue.
"We were really happy with the way it worked out.
"We had to work hard to make sure we dragged them off the layline and then we had a nice time on distance and it all worked out really well, and unfortunately the racing got called off," Barker shrugged.
With the race postponed before the startgun, Team NZ will have starboard entry for both of today's races.