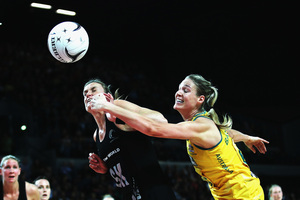 Australia 47
New Zealand 45
The song remains the same.
As we have come to expect in these clashes, the Silver Ferns and Australian Diamonds played out another thriller, that you knew would go down to the wire. And as has become typical, Australia rebounded from a first test defeat to level the series.
The Ferns trailed for most of the match, never able to take the initiative in a fractured display. Indeed for long periods it felt like a weird game of `pass the parcel', where neither side wanted the prize; both teams were full of errors but neither side could capitalise.
Irene van Dyk (25/29) struggled in the second half, with much of the load falling on Maria Tutaia (20/30). Caitlin Bassett (32/36) also had moments of difficultly but she was a constant thorn for the Ferns.
New Zealand lacked cohesion for most of the game, and struggled to get the ball through while the Diamonds often found a smoother road.
Australia was again hammered by the umpires, conceding 73 to 41 penalties across the match. The umpiring, as it always is in these trans Tasman contests was again of questionable quality and needs to be looked. The current situation, where umpires are plucked from park netball in South Africa or the Caribbean is ridiculous.
There were moments of pure magic during the game, with Tutaia running behind the goal posts ice hockey style to get a better position, van Dyk catching one handed and shooting in mid air and Kim Green unveiling a backhand flick pass that Aucklanders hope to see from Benji Marshall next year.
Both teams had powerful motivations coming into the match. The visitors were desperate to end a five match losing streak while the Ferns needed to prove they could back up a strong performance, something they have struggled with in recent years.
Alexander started with Kim Ravaillion at centre and chose the experienced hands of Natalie Medhurst at goal attack. For the Ferns Anna Thompson and Leana de Bruin got the nod ahead of Courtney Tairi and Katrina Grant respectively.
It was an untidy start to the match, as both teams made a host of elementary errors - held ball, breaking from the centre pass and misdirected passes flying across the sideline. The Australians were ferocious in defence, with the Ferns struggling to find space or time and giving up eight turnovers in the first 15 minutes.
The teams were deadlocked 12-12 after the first quarter - after Australia led 11-6 at one stage. They scored just one goal in the first six minutes of the second quarter, as the Diamonds went on an 8-1 scoring run, before the Ferns again came back. If getting in the hole was disappointing, then the fightbacks was a pleasing aspect. Australia leapt ahead in the third quarter 36-31 when the Ferns were particularly tentative and held on for a deserved victory.
Australia 47, New Zealand 45. 1st Quarter 12-12, 2nd Quarter 22-22, 3rd Quarter 36-31, 4th Quarter 41-39