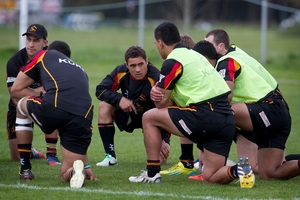 Waikato captain Jackson Willison admits the pain of losing the Ranfurly Shield is still fresh.
It should be, too, because it was only four weeks ago that his side handed it over to Otago.
In another strange twist - in what has been a bizarre season of Shield defences - Waikato get another shot at the prized Log o' Wood just a month after they lost it to the southerners in Hamilton.
Willison said his team, like Otago and Hawkes Bay immediately after them, knew the pain of losing what some regard as New Zealand rugby's greatest prize.
"It's not a good feeling at all; the boys were a little bit hurt to see it go so it would be good to get our hands on it again," he said.
"We thought that this opportunity wouldn't come around again this season, so it's a chance for a bit of redemption."
In the past five weeks, the Ranfurly Shield has made two interisland crossings.
It has been to The Remarkables where it was battered by snowballs as it defended the nether regions of Otago player Marshall Suckling.
The Shield has made appearances in places like Queenstown, Dannevirke, Napier, Hastings and Papakura and it is now in Pukekohe, where Counties Manukau, four points ahead of Waikato on the ITM Cup points table, will mount their second defence of it.
Willison said confidence in his side was high after they trounced Auckland 42-24 last weekend.
"For me the win is really important and that Shield will be a bonus ... if we do win it the feeling will sink in then but until then we are trying to keep it to the side."
Waikato ITM Cup head coach John Walters said losing the Shield was a burden off their shoulders but "to have another crack at it is quite nice".
"As soon as we lost it a couple of trainspotters went through the permutations of the draw and we knew if things lined up there was a chance but we are really just trying to focus on getting the points."
He said the Tana Umaga-coached Counties Manukau side were well-balanced, with a very good scrum and a strong backline.
"What we do know about them is they turn up to play each week so we have been preparing for the match accordingly."
If Waikato do the unlikely - the TAB has them as $2.35 underdogs - and win, their victory will mean the Shield has been held by four unions in a season, albeit one of them holding it twice.
The record for most handovers of the Shield was set in 1950 when Otago lost to Canterbury in the second defence of the year.
Canterbury then lost to Wairarapa, Wairarapa lost to South Canterbury, who then lost to North Auckland.