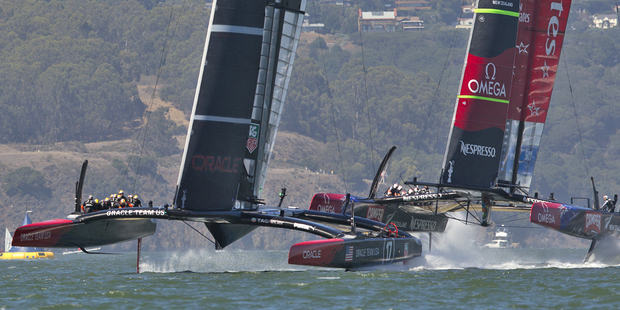 And still we wait. Poised on match point in the America's Cup, Team New Zealand could not close out the finals today, with Oracle winning the only race of the day as high winds forced the postponement of the second.
After yesterday's racing was also called off with Team NZ one win away from a famous victory, mother nature continues to toy with an entire nation. The teams were once again in the pre-start manoeuvres when the wind went above the 20.3 knot limit for the second race, forcing the abandonment of racing for another day.
There will be no panic in the Kiwi camp - they still hold a 8-2 lead in the series and have immense confidence in their boat. But that will be of little consolation to impatient New Zealand fans eager to kick off celebrations.
With every race from here on in a must-win for the defenders, Oracle pulled off a wire-to-wire win in the first race of the day, after poor start saw Team NZ playing catch-up from the very beginning.
Entering from the unfavoured starboard side, Dean Barker was perhaps guilty of being a little bit too aggressive in the pre-start, chasing Oracle in early, keeping the action tight. That allowed Jimmy Spithill to get a hook on Barker, and bounce Team New Zealand off the startline.
With their speed dropping to just 5 knots close to the line, Team NZ were well behind Oracle by the time they got going, trailing by five seconds at the first mark.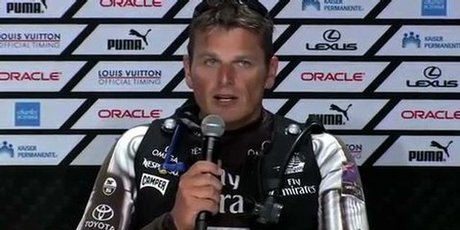 They managed to keep it close down the first run, engineering a split at the bottom mark, and made the most of the favourable current down the left-hand side of the course to reel in Oracle. But the once the two boats crossed it was Oracle's turn to benefit from the current - the defenders blisteringly quick as they went into full foiling mode in stretches.
Forced into an extra tack before the top mark, Team NZ trailed by 10 seconds heading into the final run, and from there Oracle just needed to sail error-free to claim the win.
Team NZ boss Grant Dalton said there is no sense of panic in the crew, they just need to keep "chipping away".
"It was always going to be difficult with the starboard entry. We tried to get in the action at the start, it didn't work out. There's not much in the boats upwind and probably similar downwind so it's pretty hard to make up that deficit."
Two further races are scheduled for tomorrow....and the day after that...and the day after that...until one team closes it out.