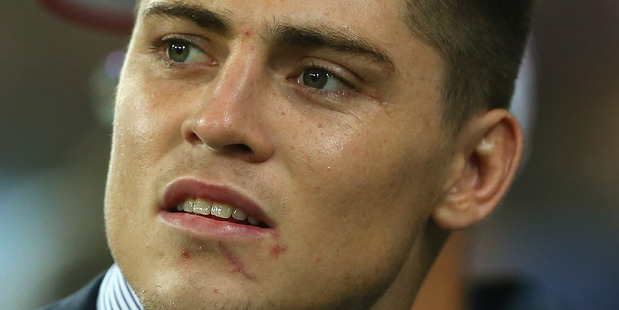 James O'Connor's playing future hinges on an Australian Rugby Union investigation into the Wallabies winger being removed from Perth Airport and barred from taking an international flight because he was intoxicated.
The 44-Test star was not allowed to board his scheduled flight to Bali after Australia's win over Argentina on Saturday and was escorted from the terminal by Australian Federal Police (AFP) officers.
A statement from AFP to various news outlets said officers: "spoke to a 23-year-old man at Perth International Airport in the early hours of the 15th of September (Sunday)''.
"It is alleged the man was intoxicated. The airline the man was booked to travel with made a decision not to allow him to board the aircraft. The AFP subsequently escorted the man from the terminal.''
It is understood most of the squad flew back to their home states the next morning ahead of a bye week in the Rugby Championship, while O'Connor was booked on an Air Asia flight to Bali with his girlfriend.
News Limited reported that the ARU launched an investigation into the incident on Sunday and were satisfied with O'Connor's version of events relayed from Bali.
He had reportedly told the ARU there was a dispute over seating arrangements at the gate which led to O'Connor and his girlfriend being taken back through customs to re-book seats on a later flight.
He allegedly denied being drunk and there was no mention of the AFP.
But the ARU on Thursday said the investigation was continuing, placing O'Connor in doubt for Australia's final two Rugby Championship matches against the Springboks and Pumas.
The Wallabies fly out of Australia on Saturday for a two-week tour of South Africa and Argentina, but O'Connor is in serious danger of being left behind after Ewen McKenzie warned the wayward winger of his responsibilities when he was appointed coach in July.
"Earlier this week, Australian Rugby Union was made aware of an alleged incident involving James O'Connor at Perth International Airport in the early hours of Sunday 15 September,'' said an ARU statement.
"While ARU had not received any formal notification, complaints or reports from police, airline or security officials, ARU began an investigation into the alleged incident.
"The investigation is ongoing.''
Currently without a Super Rugby club, O'Connor has been linked to a move back to the Perth-based Western Force, where he first came to prominence.
O'Connor has been involved in a series of controversies since making his Test debut in 2009.
This year alone, he was shown the door by the Melbourne Rebels earlier this year, photographed at 4am at a fast-food outlet in the lead-up to a British and Irish Lions Test and disciplined for missing Wallabies team meetings.
- AAP