Every day from now on looms as a potentially historic day for the syndicate, but the sooner the better for excited spectators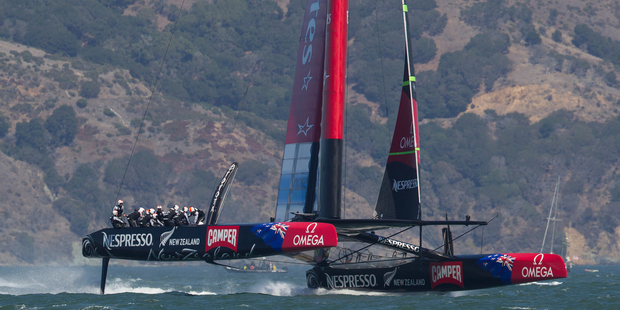 For Kiwi fans it has felt like the never-ending regatta, but today, everything going to plan, could be the day.
After Team New Zealand's dominant start to the America's Cup match it looked as though they would make short work of Oracle Team USA. But a stunning resurgence from the Cup defenders, combined with lay days and untimely weather delays has seen the finals series drag on longer than initially thought.
Return flights home are starting to become a concern for Kiwi fans, who are worried they could miss out on witnessing a famous New Zealand sporting moment if Emirates Team NZ can pull it off.
After yesterday's races were called off due to high winds on San Francisco Bay, there will be racing every day from here on in (weather dependant) until there is a result.
That means for Team NZ every race day looms as a potentially historic day for the syndicate and New Zealand sport.
For the sake of frayed nerves, the sooner the better - around about 10am this morning would be perfect.
While the New Zealand public might have been guilty of getting a little ahead of themselves when it comes to planning their celebrations, Team New Zealand skipper Dean Barker said he has not allowed his mind to drift to the possibility of lifting the Auld Mug.
At 7-1 up in the match you would think the team would be afforded the luxury of comfort in the series, but Barker refuses to stray from the "one race at a time" philosophy he has preached throughout the regatta.
"You can't start heaping more pressure on any one particular race, you've got to approach every one the same, knowing you've got to be as error-free as possible," said Barker.
"[Lifting the Cup] is about the furtherest thing from my mind to be honest. It's very much about trying to win two more races. We know it's going to be a battle for every point. We know statistics are on our side, but we have to go out there and earn each point as they come and we have to work very, very hard for those points."
It's a not a line that is going to capture the headlines like Barker's tough-talking opposite Jimmy Spithill, who delivers bold statements day after day at the post-race press conferences. But Team NZ's steady-as-she-goes approach is obviously working for them.
They have remained remarkably level-headed throughout the regatta, all the time while the mood of the nation has ranged from febrile to hysterical.
There was no discernible smugness in the Team NZ when they returned from the water on the opening day with two points in the bag, just as there was no discernible panic when they came so terrifyingly close to blowing their regatta with the near-capsize in race eight.
In a sense they seem to be on autopilot. The Kiwi crew has their set routines and processes they follow and nothing can waver them from their mission at this point.
It's an approach that permeates right throughout the team, with even the design room guys refusing to give themselves a premature pat on the back for their efforts.
With the Team NZ boat out-performing Oracle early on in the regatta, particularly upwind, the designers could have been forgiven for feeling a bit pleased with themselves.
But Team New Zealand head designer Nick Holroyd said he didn't take any personal thrills from seeing the boat he oversaw from its infancy, blitz Oracle around the race course.
"You can't actually get too wound up in the high of the moment. It's still my role to make well-considered and non-emotional decisions as we got through this week and develop the boat that's really, really important," said Holroyd.
"There's still races out there for us to catch and that's still a big undertaking so we just have to keep the processes we've got in place inside the group working smoothly, keep making good decisions and we'll see how it plays out."
The forecast for the rest of the week is for more moderate winds, with the strength of the ebb tide diminishing.
Two races are scheduled each day from here on in and a sizeable chunk of New Zealand's 4.5 million population will be hoping against hope that not many, if any, more are needed.