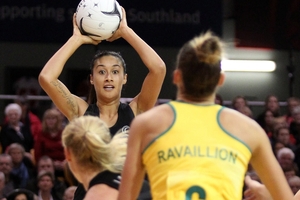 Get ready for part two of the Laura and Maria show.
They are both outstanding individuals but Laura Langman's partnership with Maria Tutaia will only get better over the next few years, which could spell serious danger for the Australian Diamonds.
The two are not exactly unfamiliar, having played 76 games together for the Ferns, but their partnership - outstanding in the first test victory in Invercargill - hasn't always been appreciated or noticed.
For many years it was an afterthought. Instead we tended to focus on Tutaia's almost telepathic ties with Temepara Bailey (nee George), or Langman's links with Irene van Dyk, a go-to combination built from nine years together at the Magic.
But Langman and Tutaia have forged a brilliant understanding over the years and with the paucity of midcourt experience at present, together with a tendency for opposition defences to target van Dyk, the link between the two has never been more important.
Or valuable.
The problem for Australia - and all other international teams - is Langman's impending move to the Mystics in 2014, meaning the duo will be training together day in, day out.
"The chance to play with her was obviously taken into my decision regarding next year," says Langman. "Maria has really stood up over the past few years and my job is to work for her. I do whatever it takes to make her game more efficient, so she can focus on putting goals in."
Says Tutaia: "The links between myself and Laura are becoming very solid. She has helped me a lot with my game. We are just starting to get that understanding between each other, as a centre and a goal attack.
"We are definitely growing into each other, knowing each other's strengths and weaknesses."
They were teammates at the Magic (2008-09) but under very different circumstances. Langman, with a natural defensive inclination, was still finding her feet at centre, having spent most of her career at wing defence. Now, instead of coming together a few times a year at national level they will be able to fine-tune their combination on a daily basis. It should be a quantum leap.
It's the difference between Paul McCartney and Michael Jackson coming up with a great duet and the hard-won, polished perfection of Steely Dan or Simon and Garfunkel from hours in the studio together.
Despite natural differences - Langman, raised on a dairy farm in Te Pahu, Tutaia the city girl from West Auckland; Tutaia is the social media queen while Langman remains more private - they have a strong bond.
"She is not scared to say anything to me, and I am not afraid to hit her up about stuff," says Langman.
"That ... is hugely beneficial."
Tutaia adds: "With us it is all about communication and combinations.
"Lines, angles, what sort of pass she is going to give - those are the sort of things you need to know to gain that real strong combination on court, especially playing against Australia. If you don't have that link they will just eat you up and spit you out."
Class acts
Maria Tutaia
Age: 26
Height: 1.88m
Caps: 77
Test debut: November 13, 2005
Laura Langman
Age: 27
Height: 1.73m
Caps: 91
Test debut: March 12, 2005
Aside from the Silver Ferns, Langman and Tutaia were also teammates in the 2005 New Zealand Under-21 team, which won the world youth championships in Florida. They also spent two years together at the Magic (2008-09).