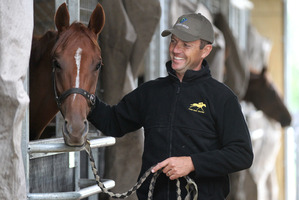 John Bary says don't worry about Survived's physical fitness, it's the star's mind that he's delighted with.
The Hastings horseman believes he can see a different Survived to the horse that won the $200,000 Makfi Challenge three weeks ago.
The public might not see that difference when Survived goes out favourite for Saturday's $200,000 Windsor Park Plate at Hastings on Saturday, but Bary can see a significant change at home.
"It's not physical, it's in his mind - he's suddenly become a lot more confident.
"He's a lot more mature mentally and so much more sure of himself.
"There's a lot more swagger about him walking around his paddock.
"I haven't had to concentrate on his physical fitness because he's always a fit, athletic type."
The TAB yesterday started Survived out on the Final Field book as the $3.20 favourite ahead of Final Touch on $3.80, perhaps a predictable price margin given the relative performances in the Makfi.
Unlike on Makfi day, the Hastings track has been in the dead zone for a week and is likely to stay that way for Saturday.
Rain is forecast for the Auckland and Waikato districts, but the worst that is predicted for Hawkes Bay is "a few drops of rain".
A dead track should suit both Survived and Final Touch, probably also third and fourth favourites Nashville and Xanadu.
"Improved conditions will be perfect for him and so will the step up in distance [1400m to 1600m]," said rider Opie Bosson of Survived.
John Bary said he is unconcerned about the second-up theory, suggesting some horses, if they have relatively tough races when fresh, perform slightly below their best at their second start.
"He was a fit horse going into the Makfi and a fit horse coming out of it.
"There won't be any issues there."
Final Touch flew home behind Survived in the Makfi after looking to be so far off the leaders on the home turn to be out of the race.
Although she is extremely versatile, Final Touch is admirably suited by Saturday's 1600m.
Field: Mufhasa (11), Nashville (1), Ransomed (9), Capone (5) 59; Survived (12) 58.5; Final Touch (4), Xanadu (3), Zennista (2), Full Of Spirit (10), No Excuse Maggie (6), Pimms Time (7), Our Famous Eve (8) 57.
Market: $3.20 Survived, $3.80 Final Touch, $5.50 Nashville, $7.50 Zanadu, $10 Full Of Spirit, $12 Mufhasa, $16 Pimms Time, $26 Zennista, $31 Our Famous Eve, $41 No Excuse Maggie, $61 Ransomed, $101 Capone.