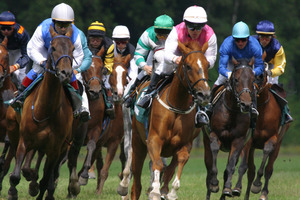 A bright psychologist once said: "If you were born where I was born, and you were taught what I was taught, you'd believe what I believe."
In only a slightly looser sense your employment frames your thoughts.
When Australian Cameron George first arrived here as New Zealand's chief stipendiary steward his first proper week's work was being impossibly required to sort out the diabolical Lisa Cropp/Vinny Colgan "metal object" New Zealand Derby raceday inquiry at Ellerslie with an instant decision.
He was steel-like, decisive and let nothing stand in his way. It was remarkable to watch.
When the Herald contacted George yesterday, these days as chief executive of the Auckland Racing Club, for a comment on the recommendation the group one Auckland Cup be shunted back from its new date in March to its old New Year's Day, the devil's ears had been replaced, if not by a choirboy's prayer book, certainly by a US diplomat's codebook.
Here was a subject close to the Auckland Racing Club's heart - the newly developed March Cup/Derby carnival is the latest you beaut, good thing and you might have expected a volatile response to a suggestion by the Pattern Review Committee that it be partly disassembled.
"I respect that opinion," said a carefully modulated George, "but it's an opinion that has been formed solely in relation to the racing industry.
"We are about much more than that here at the Auckland Racing Club."
One of the driving forces at the time of relocating the Derby from Boxing Day and the Auckland Cup from January 1, both to a new March carnival, was that the corporates were able at that new time of year to be courted.
Business houses were essentially closed through Boxing Day and January 1.
The corporate response to the three-day March carnival has been huge and it plays a major part of ARC finances.
"March is a very good commercial period for us," says George. "We have to look at this issue across the board and not just from a racing perspective.
"That said, we are a racing club and we will serve the industry properly.
"We hear every week we have to improve the image of racing - we believe the March carnival, with so many guests through the corporates, does that very well.
"This recommendation was made only a couple of days ago and I haven't had a chance to discuss it with the board."
The chance of the Auckland Cup being re-located back to New Year's Day is roughly the same as Larry Ellison being the first to shake Dean Barker's hand when we win the America's Cup.
Pass the cucumber sandwiches, please.