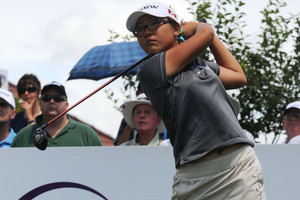 Lydia Ko has a few decisions to make around her professional career but one thing is clear - she wants to win Olympic gold in Rio in 2016.
The 16-year-old, who has risen to fifth in the world rankings even though she's still an amateur, returned home today to start a two-month hiatus from golf to focus on her schoolwork and contemplate when to turn professional.
She finished second in her last tournament, the Evian Championship in France, and said, "the next time you see me I may be a pro'' but today Ko was more circumspect. She has some invitations to play tournaments after her exams finish at the end of November but is undecided about her next move.
"I haven't said yes or no at the moment because I am going to concentrate on my studies,'' said Ko, who will return to school tomorrow (Thurs) at Pinehurst School on Auckland's North Shore. "We are thinking if we play them I might be pro then I don't have a date or we haven't made a clear decision when we are. I may not be.''
She's more clearcut on her Olympic ambitions, especially as golf will be included on the 2016 programme for the first time since 1904.
"I met [Olympic rower] Mahe Drysdale at the NZPGA and I was like, `wow, a gold medallist','' she said. "If I get to be the gold medallist, it would be even bigger knowing I have done a huge thing like Mahe has.
"It's one of my big goals. Hopefully I will be selected and I will play in Rio.''
Short of injury or an horrific reversal in form there seems little doubt about that. She has won two professional titles and finished runner-up at a major tournament, finished in the top five on seven occasions and hasn't missed a cut in 25 professional tournaments since making her debut at the New Zealand Women's Open in 2010.
It's a staggering list of achievements for someone so young yet she has resisted the temptation to turn professional. She has turned down the opportunity to pocket more than $1 million in prizemoney, not to mention much more in endorsements.
Her coach, Guy Wilson, expects Ko to become one of the highest paid New Zealand sportsperson when she decides to turn professional with various organisations having already indicated they want to invest in Ko which will mean a healthy payday when she joins the professional ranks.
"Especially first year, I think she'll get it easy,'' Wilson told Radio Sport. "Given the amount of money that there is in endorsements, the thing is with women's golf the cheques are so small compared to men's, and so I think the endorsements will be the ones that really crank it up.''
Ko hasn't entirely missed out on the perks. Her mother and aunty organised for her to meet her favourite Korean actor Ji Sub So.
"That is the best prize I have been able to get... for now,'' she said.
- APNZ