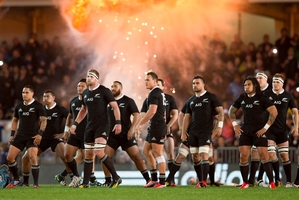 It has become common for rugby fans at international matches to boo opposition placekickers as they attempt shots at goal. While this is not the most sportsmanlike of behaviour, it can just about be understood in terms of the passion, banter and zealous determination to win that one can expect at major sporting events.
Aggressive, unsolicited verbal abuse of fans of opposition teams, however, cannot be condoned or accepted in a civilised society and unfortunately we are recently seeing more of this at games in New Zealand.
A friend had an extremely unpleasant experience at Eden Park on Saturday. This new South African immigrant, happily settled with her family in Auckland for just over one year, was reduced to tears by All Black supporters who repeatedly snatched her green Springbok beanie off her head and let loose with a barrage of "f and c" words when she asked them to stop.
She was sitting with her husband and teenage sons and the bad language and abuse continued for much of the game, ruining the experience for them.
This is a well behaved and respected immigrant family who made the "mistake" of wearing the colours of their country of birth to Eden Park for an All Blacks v Springboks test match. Now they are questioning the character of some New Zealand fans and perhaps even subconsciously questioning their decision to migrate to New Zealand.
It would be easy to lay the blame on one isolated and drunken group of fans - I was at the game too and witnessed no such behaviour - however, the problem was more widespread.
After the game as the family made their way through the crowds and towards their car, another inebriated fan clipped my friend's head as he tried to knock her Springbok beanie off - drunken and loutish behaviour at best - physical assault at worst, based on the level of force that was used. And I have heard accounts of similar incidents of bad behaviour at one-day cricket internationals at Eden Park.
This family's experience has soured their view of the sportsmanship of some New Zealand fans and also raises some intriguing questions: Is sport so important that we forget our own decency and good manners while parochially cheering on our own team? Are some Kiwis taking their hero worship of the All Blacks too far in that they have become openly hostile and unpleasant to visiting fans of other teams?
Do some of us have an inferiority complex which can only be remedied temporarily if the All Blacks win - has the All Blacks' win-loss ratio become a statistic by which we measure our personal self-esteem?
Quade Cooper has not proved to be the most likeable and graceful visitor to our shores, but isn't it perhaps time that we ceased from booing every time he touches the ball? Should the sale of alcohol at major sporting events be reconsidered?
I am sure my friend and her family will, with time, contextualise and move beyond their upsetting experience. It seems clear that some New Zealand fans need to reflect and move beyond their boorish and unpleasant behaviour at sports matches as well as their over-zealous worship of our national teams.