St Pauls' Futsal star training with national squad until world body gives all clear.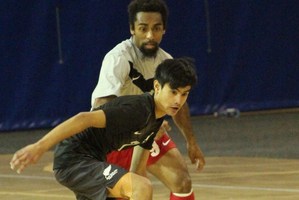 St Pauls Collegiate have produced a few sporting stars over the years with 17-year-old John Penyas now poised to join the school's sporting elite by taking his good form as a school Futsal star on to the international stage.
Penyas is already firmly in the sights of national coach Scott Gilligan but he is being stymied, in the meantime at least, by Fifa's residency rules.
As the only form of indoor football officially recognised by the world's governing body, Futsal is taking off and opening new doors to talented players worldwide.
Penyas, born in the Philippines but living in Hamilton with his New Zealand grandfather, has obtained his residency but must now meet Fifa's criteria before getting his chance to display his skills internationally. Until he gets that tick of approval, and New Zealand Football's high performance manager Fred de Jong said he expects his eligibility to be given the okay "sooner rather than later", Penyas will continue to train as a member of the national squad.
First introduced to the indoor game by former All White Mike Groom, Penyas has split his time between indoor and outdoor soccer.
"Mike Groom was running indoor classes and I just went along," said Penyas. "I really enjoy it and don't find the switch from one to the other difficult."
Groom's technical ability has long been recognised in this country and has obviously played a major part in Penyas' development in a sport which demands a high skill level. Futsal is played between teams of five with generally no set positions.
"I have been playing mainly as a midfielder in the first XI since Year 9 and I'm now in Year 12," said Penyas. "We have just played in the premier tournament in Taupo which was my fourth time."
While Penyas said "we didn't do too well" - St Pauls lost the playoff for 29th 1-0 to St Andrews College - he is happy to mix the two sports.
"Futsal is getting bigger especially down here with a new Waikato-Bay of Plenty competition," said Penyas, who was voted the MVP at this year's secondary schools nationals.
His efforts at that tournament caught Gilligan's eye and led to his selection in the national squad.
While he awaits his ticket to play, Penyas will continue to train. He hopes one day to take his considerable talents to the US where the sport is big and offers scholarships to budding stars.
Results

Basketball
Premier finals
Girls: Rangitoto 76 WGHS 65. Final placings: Rangitoto 1, WGHS 2, Massey HS 3, MAGS 4, AGGS 5, St Kentigern 6, Avondale 7, Carmel 8.
Boys: Rosmini 68 Westlake Boys 64. Final placings: Rosmini 1, WBHS 2, AGS 3, Rangitoto 4, Avondale 5, St Kentigern 6, Onehunga HS 7, Lynfield 8.

Greater Auckland Tournament
Finals boys
Open: Liston 52 Massey 44.
Under-17: Rangitoto 62 WBHS 50.
Under-15: Rangitoto 42 AGS 34.
Girls
Open: WGHS 36 St Cuthberts 34.
Under-17: Rangitoto 24 Massey 16.
Under-15: Avondale 54 MAGS 28.

Cycling
Auckland SS Time Trials
(Mangere)
Final round
Senior boys, Bigwood Trophy: Massey HS 22m 58.2s 1, St Kentigern 23m 00.6s 2, AGS 23m 16.6s 3 Overall: St Kentigern College A 1, Massey High A 2, AGS A 3. James Faulding Memorial Trophy, fastest time (season), senior boys, Massey High A 22m 04.7s (record).

Senior girls, Kingsford Cup: St Kentigern 26m 09.7s 1, Diocesan 26m 46.4s 2, TGS 27m 13.7s 3. Overall: St Kentigern College A 1, TGS 2, Baradene College A 3. Partridge Cup, fastest time (season), senior girls, St Kentigern College A 24m 58.9s (record).

Junior boys, Junior Boys Cup: St Kentigern 23m 27.9s 1, AGS 24m 20.9s 2, WBHS 24m 34.8s 3. Overall: St Kentigern College A 1, AGS A 2, WBHS A 3.

Junior girls, Merv Harland Shield: Baradene 27m 04.8s 1, Diocesan 27m 42.4s 2, St Kentigern 28m 27.8s 3. Overall: Baradene College A 1, St Kentigern College A 2, Diocesan School A 3.

Handicap Series
Senior boys: Parnell College B 1, St Peter's College 2, Rangitoto 3.
Senior girls: EGGS 2 1, Diocesan School A 2, Macleans College A 3.
Junior boys: WBHS B 1, St Peter's College F 2, St Peter's College A 3.
Junior girls: St Mary's College A 1, Baradene College G 2, Baradene College F 3.

Lacrosse
Auckland SS boys
Division one championship (1-4): AGS 11 WBHS 3.
Plate (5-8): MRGS 10 Whangaparaoa 8.

League
North Harbour
Premier Restricted Weight (under-85kg), pool A: Glenfield default to Birkenhead. Pool B: Whangaparaoa 26 TGS 22, Mahurangi 26 Rangitoto 24.
Under-15: Glenfield 22 Birkenhead 16; Massey 36 Orewa 16.
Counties Manukau under-85kg: Howick 28 Papakura 22.
Girls
Open Grade XIII: AGGS 8 Sir Edmund Hillary , James Cook 18 Tamaki 18.

Rugby
National SS final, Hamilton
Hamilton BHS 12 (Bryn Gatland 3 pens, drop goal) St Kentigern 10 (TJ Fialli try, Will Reaea con, pen). HT: 3-10.