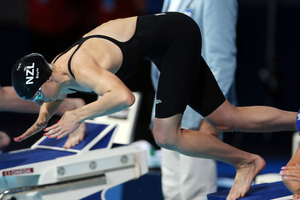 Swimming New Zealand are showing signs of progress both in and out of the water and, on top of medals at major championships, will post a small profit over the past year.
The organisation was in turmoil but has undergone significant change since an independent whole-of-sport review instigated by Sport New Zealand in mid-2012.
They now have a new chief executive (Christian Renford from Australia), new high performance director (Luis Villanueva from Spain) and new head coach (David Lyles from China). A number of officials have also been appointed to committees of the sport's ruling body, FINA.
Swimming New Zealand's financial results have improved from a deficit of $120,000 in 2011/12 to a small surplus of $16,000 in 2012/13, despite heavy expenditure incurred in activating changes required by the review.
But it's in the pool where the most traction is felt and Lauren Boyle has played a leading hand in this.
Boyle won the 800m freestyle world short course championship title in December 2012 and more recently became the first New Zealand female swimmer to win a world championship medal, claiming three bronze medals in Barcelona, Spain.
The overall performance of the team of 14 swimmers in Barcelona exceeded three of the four targets set when deciding on the campaign - the targets for the number of medals, the number of places in finals and the number of top 12 swims. The team matched the fourth target for the number of top 16 places.
More recently, the small team of four swimmers at the world junior championship in Dubai performed well, with a world junior title for Auckland's Gabrielle Fa'amausili in the 50m backstroke. She set a championship record in the heats on the way to her victory against swimmers up to four years her senior.
"The board is pleased with its progress in the implementation of the 21 recommendations from the independent review,'' chairman Brent Layton said.
"Our focus is now on the future development and growth of the sport and improving the success of New Zealand swimmers at international events.
"Results at the Commonwealth Games in Glasgow next year will we be an important test of whether sustained progress is being achieved.''
Ian Hunt has been re-elected to the Swimming New Zealand board by regional associations and Geoff Brown has been re-appointed by the appointments panel.