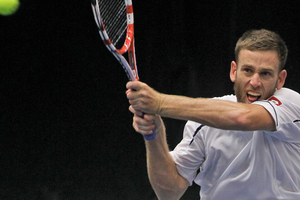 New Zealand's Davis Cup victory over the Philippines this morning was marred by an altercation between the teams during Rubin Statham's five sets loss in the first match.
Captain Alistair Hunt said things got heated.
"Just a little bit of argy bargy carry on that was going on, there were some pretty poor comments that have been thrown around but that's what it was it was heat of the moment sort of stuff.''
Hunt said a rope was eventually brought in to separate the two teams court side.
"To be honest the rope was a bit of overkill there so I'm not sure why that even got put up.
"The boys were standing up, cheering then people were saying they couldn't see and all sorts, and it just got a bit silly there.''
However Michael Venus came from two sets down to win the deciding fifth rubber against Trent Huey to earn New Zealand promotion to Asia Oceania zone Group One for next year.
It left Hunt bewildered.
"We're all pretty stunned to be fair,'' he told Radio Sport.
"He was up 4-1 in the first set and ended up losing that 7-5 and then lost the second 6-4, and still managed to pull it out so a pretty unbelievable effort.''
Hunt said it was a terrific performance.
"Two sets to love down and just started playing like he did in the fifth on the first day, just started playing some great tennis, got on top of Huey there and just kept the hammer down.''
New Zealand win the tie 3-2 and will play in Group One alongside India, China, Chinese Taipei, Uzbekistan and Korea for a place in the World Group playoff next year.