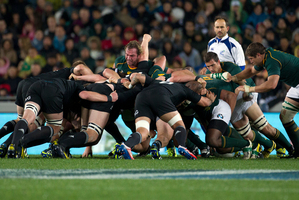 Stop the clock or stop the pretence. Hopefully both. Scrums which differentiate rugby from a fraternal code remain a tediously complicated blight on the sport.
Penalties, collapses and resets have been the norm through the Rugby Championship as teams battle to assimilate the new regulations.
Crouch, touch, set has become collapse, try-again and sorry.
With two years to run until the next World Cup, the game's rulers need to revisit the scrum or risk a tournament of tedious uncertainty. Scrums are a visual debacle between uncertain competitors.
All Black hooker Dane Coles was at the centre of the latest Eden Park fiasco and had a few ideas about how to clean up the mess after his side waged their latest duel with the Springboks.
"The ball has to go down the shoulders of both props at the engagement and for a hooker that is too far to put your foot out," Coles said.
"I think they've had a couple of cases of hookers who dislocated their hips because they had left their foot out and the pressure of the scrum has gone over it. The bind and that is definitely good but maybe they have to address the feeds."
If halfbacks could err towards their own team, Coles thought that would give their hooker a better chance of striking for the ball.
A dominant scrum could push and walk over the ball but in an even contest it became dangerous to strike and risk losing momentum.
"I think it has gone from one problem to another, I suppose. It is kind of frustrating," said Coles, who preferred the previous hit and chase laws.
Some issues were amplified by the eight on seven imbalance when Bok hooker Bismarck du Plessis was sent off for his second yellow card.
But the problems were there before his exit.
It had been hard to hear referee Romaine Poite above the noise of the 47,362-strong crowd, Coles said, and when there was that uncertainty, sides pushed at different moments.
"Hopefully it gets cleared up because we don't want to see scrums getting wasted and reset like that," he said. "I don't think it is working."
The crouch bind set sequence and the referee's delivery order to the halfback gives minimal advantage to the team feeding the scrum.
Away from that uncertainty and an overthrow on his first lineout, Coles said his first shot at the Springboks had been an invaluable experience.
"That was right up there," he said.
His brief encounters with du Plessis showed what a menace the Bok hooker was and what a loss when he was sent off.
All Black coach Steve Hansen gave little public clue about his assessment of Coles' work.
"We asked him to step up into the big ball park and in talking to him afterwards he said he enjoyed it."
Hansen warned one South African inquirer not to go too far with the "robbed" accusation about du Plessis's sending off.
"I don't think it is legal to go around putting your elbow in someone's throat. The second one may have been a red without it being a yellow, so if you want to have balanced look at it you need to be balanced."