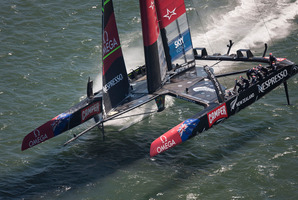 It was standing room only this morning as more than 1200 people packed into Shed 10 at the Viaduct, breaking in applause every time Team NZ took the lead in this morning's racing.
Brit Jayden McKenzie, 43, described the atmosphere as "electric" and far more exciting than the All Blacks game.
His New Zealand partner, Nancy, covered her face in disbelief when Team NZ nearly capsized just before reaching gate three, allowing Oracle to come from behind.
There was applause for Oracle as they crossed the finish, followed by even louder applause for Team NZ as crowds start to disperse.
Meanwhile, about 60 members of the Murrays Bay Sailing Club on Auckland's North Shore keenly watched the races on a television screen in the clubrooms overlooking the bay where Dean Barker and Ray Davies cut their teeth in racing competitions
Barker and Davies grew up racing small craft like the optimist and P class at the bay and club commodore Dave Gun said their presence in the cup regatta was an inspiration for young sailors who were the club's focus.
The club motto is to give the best opportunity to sail fast and achieve excellence.
Many of the youngsters cheering on their heroes in Emirates Team New Zealand were still tired from completing four races in cold blustery winds the day before at the club's season opener.
The youngsters screamed "Oh no" when the boat nearly capsized and then a hush descended until they learned whether the boat was damaged and could continue the race.
At the finish, they loudly clapped the ETNZ crew despite it losing the race.
Twelve year old Sophie Egnot-Johnson said: "They are pretty fast and pretty cool. I want to sail in the Olympics and sail in the America's Cup."
- APNZ