One of the planet's best sailors, Rod Davis has chased victory in the America's Cup for three decades. It's tantalisingly close.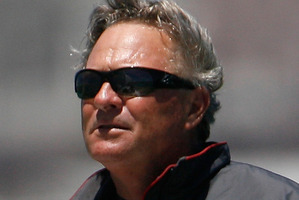 Spare a thought for Rod Davis, Team New Zealand coach, if the team manage to capture the America's Cup.
Davis, originally an American, has been on the trail of the Cup for 36 years. He's been on 11 America's Cup campaigns - and he's never won it.
He's gone for it as an American. He's gone for it as a Kiwi (which he has been for a long time now, having represented the country in three Olympic Games plus America's Cup challenges). He started as a 21-year-old bowman in 1977.
He has a Kiwi wife, Liz, whose maiden name is one of the better known in New Zealand yachting. She is Tom Schnackenberg's sister. "Schnack" was synonymous with Australian and New Zealand America's Cup challenges from 1977 to 2003.
But Schnack won it three times (once with Australia II, and with Team NZ in 1995 and 2000).
Davis, now challenging his brother-in-law's 12 America's Cup campaigns in his 11th, has nothing to show for it.
Zero, zip, nil, nothing, nada. And he has yet to bring home the America's Cup.
Well, except for being labelled one of the country's - and the planet's - best sailors.
Oh, and Dennis Conner called him a traitor. So he must be all right then. Actually, Conner said that in 1988 - during that bad-tempered, ill-natured America's Cup where Sir Michael Fay's "big boat" monohull took on Conner's Stars & Stripes catamaran (complete with wingsail).
Asked what he thought of Rod Davis, an American, working with the New Zealand challenge, Conner's acerbic tongue got the better of him.
"You mean Benedict Davis," said Conner. He was referring to Benedict Arnold, the American general during the Revolutionary War against Britain in the 18th century who defected to the British and whose name has forever more come to symbolise treachery.
You couldn't meet a less Arnold-like character than Davis. A mild-mannered man not given to over-the-top public displays, Davis is now 58 and still hoping to see his old mug reflected in the shiny surface of the Auld Mug.
It's not as if Davis has never won anything. It's just the America's Cup that has escaped him.
In 1984, for the US, he won a gold medal at the Los Angeles Olympics and then did the next three - Seoul in 1988, Barcelona in 1992 and Atlanta in 1996 - for New Zealand, winning the silver medal in Barcelona in the Star class, with Don Cowie.
It's also not as if Davis was new to New Zealand - even in 1984 - or to the America's Cup.
By 1984, he'd already done three campaigns - in 1977, in 1981 (when he'd been coach on Australia 1) and then in 1983, when he was a mainsail trimmer on Tom Blackaller's Defender - a yacht designed (and named) to defend the Cup, but which didn't make it past the defender trials.
In fact, he'd been visiting New Zealand since the first Citizen series in Auckland in 1979.He was billeted then at the home of Liz Schnackenberg who had met the handsome young American in 1976 on her OE, doing some work for Long North in San Diego.
One thing led to another and now, in San Francisco, the lively Liz finds herself a SWAG (Sailing Wife And Girlfriend).
"I'm not sure if being a SWAG is a good thing or not," she laughs.
She is sure, really. She is at the heart of a huge team of New Zealand supporters and WAGS and kids on Piers 27 and 29 (America's Cup Park) to hoot and holler as the Emirates Team NZ sailing crew go through the dockout ceremony as they are introduced to the crowd before they head out on the AC72.
It is a primarily Kiwi affair. Team NZ T-shirts are everywhere and Liz is among those, 36 years down the track, giving full voice to the support.
This is a family steeped in the America's Cup.
When Davis was on the US challenge from the Eagle syndicate in 1987 in Fremantle, Liz was heavily pregnant with daughter Hannah.
The baby girl was 11 months old before the itinerant sailing family had their first night alone together under the same roof. Before that, they had stayed in crew houses or hotels or with family and friends.
Hannah is now working for the America's Cup Event Authority and has been at previous Cup regattas. Son Grant also has a regatta job in San Francisco.
Eagle were out of the contest early in 1987 but Davis stayed on, living in the compound and waiting for Hannah to arrive, hanging round the media centre and watching the rest of the racing.
He was waiting for Conner to sail Stars & Stripes against Chris Dickson's KZ7 in the challenge finals to take on Kookaburra III, sailed by current America's Cup regatta director Iain Murray.
"I'd been in touch with the Americans because we'd sold some sails to Stars & Stripes after Eagle got eliminated, [and I] offered to come out sailing with them," said Davis in an interview some time ago.
No one got back to him and Davis was surprised to get a call from Dickson who said, 'Would you like to come out and do some starting?' So I did."
That led to a meeting with Michael Fay, the Auckland merchant banker then heading the New Zealand America's Cup syndicate.
"After we talked, Michael realised I was moving to Auckland and he said we ought to get together and talk about the next America's Cup," Davis said. He was then hired to call tactics for the 12-metre world championships at Sardinia, Italy, in 1987 - a kind of trial for the Cup.
It worked out well. With Davis's help, New Zealand won the world championships and the America's Cup was on.
But it wasn't the America's Cup as we knew it.
Tired of Conner's San Diego Yacht Club dragging the chain, the Fay camp forced a Deed of Gift challenge through the courts and earned Conner's ire as they forced the infamous 'big boat' challenge - where the Kiwis were soundly beaten by Conner's wingsailed catamaran, the wing designed by Gino Morrelli, partner of Pete Melvin, who helped design the Team NZ AC72 for this year's America's Cup.
Davis' role was sailing master; a coach who doesn't sail on the boat. The 1988 campaign had that unhappy ending - a jubilant and vindictive Conner won easily.
The America's Cup has a way of circulating the talent (like Morrelli and Melvin). Davis has worked for four countries in his 11 campaigns - New Zealand, Australia, Italy and the US.
Davis was back for the 1992 and 1995 campaign, coached Luna Rossa to the final of the Louis Vuitton in 2000 and then a challenge for the America's Cup against the Russell Coutts-inspired Team New Zealand. He was part of the 2003 Cup in Auckland with the Italians and was back with Team New Zealand for the 2007 campaign in Valencia and now in the San Francisco effort.
It's been a long wait for the Cup. It may soon be over. There's probably people on the New Zealand team who want to win it just as badly as Rod Davis does.
But no one who has waited longer.