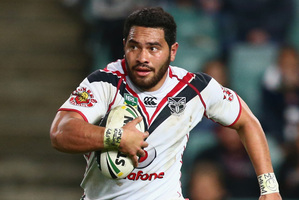 Warriors' fans are known for being a loyal bunch and their patience will continue to be tested over the next two seasons.
Through the drama and despair of the 26 games of the 2013 season, the eventual 11th placing for the Auckland club has left everyone deflated. Instead of going into the off-season on a high - knowing they had done everything possibleto achieve a play-off dream - there are still more questions than answers around this Warriors team.
There is hope on the horizon, however.
While there is expectation of an incremental improvement next year, the real 'fruiting of the vine' should come in the 2015 season.
If this season was year one of the Eric Watson/Owen Glenn/Wayne Scurrah/Matt Elliott project, then year three should be when the pay-off comes. At this time in 2015, the squad will have a significantly different look and feel about it.
Promising youngsters such as Suaia Matagi, Ngani Laumape and Glen Fisiiahi will hopefully have around 50 NRL games behind them by September 2015. Others such as Ben Henry and Konrad Hurrell might have nearer 80 - imagine the improvement possible in a player like Hurrell - while Shaun Johnson should be close to 100 games.
Sam Tomkins will have had almost two seasons of NRL football and the hooker-halfback-five eighth combination of Thomas Leuluai, Johnson, Chad Townsend should be firmly established.
Experience is one of the biggest issues that drives success in the NRL. There are some freaks - Manly's Daly Cherry-Evans has looked assured since he came into first grade and Cameron Smith was playing Origin before his 21st birthday - but generally games on the clock matter. To paraphase football commentator Alan Hansen, you can't win anything with kids in the NRL.
"I always say you need to have played three years and about 40-50 games before you know what the hell is going on out there," says Wayne Bennett. "Up until then, you can get the odd exception but it is a huge adjustment to anything else they have ever played."
Warriors hooker Nathan Friend was just past his 21st birthday when he made his debut in 2002.
"When I first started, I thought 'I'm ready for first grade, give me a go',"says Friend. "But it's not until about 50 games that you start to understand the game and every game starts to slow down for you. Now you enter a game and you can see things in advance."
This year, the Warriors had a core who had played considerably less than 50 NRL games.
"If you have got too many in the team that haven't got [those numbers] up, that makes you even more vulnerable. There are a whole lot of issues there," says Bennett about using youth. "[Generally] the less, the better; the more, the more fraught you are with the danger of not getting it right."
But 2013 hasn't all been about rookies being rocked, like in 2012, when they had a younger, thinner squad. It has also been about the older players, those with a decent level of NRL experience, not setting the necessary standard.
The enduring puzzle is how to get consistent performances out of the likes of Feleti Mateo (164 games), Manu Vatuvei (171), Jacob Lillyman (162) and Ben Matulino (132).
"[Mental toughness] in a team depends on your experienced players because they drive that more than your inexperienced players do," says Bennett.
"If you have got good professionals in your team, they get a hold of that and make that happen for you."
This season was immensely frustrating. For every step forward, there was eventually a slide back. The campaign would have been much worse had the team not staged a mid-season revival but it should also have been better, given their roster.
The problem and the challenge for the team and coaching staff are the mental demons that continue to plague the Auckland franchise.
Putting all other mitigating factors aside, it can be the only way to understand why the Warriors lost the way they did, in the crucial end-of-season matches against the Panthers, Sharks and Dragons.
For all the resilience they demonstrated in the middle of the season, the end to the year showed that the burning desire, will to win and absolute hatred of losing - a characteristic of all championship teams - is still not ingrained in the Mt Smart DNA.
The Warriors remain predictably unpredictable. It's an overused cliche, but here is always uncertainty as to which Warriors team is going to turn up on any given Sunday.
That has to change. Fans can forgive losses that may come from poor execution but defeats based on insufficient effort are harder to swallow.
The Warriors can't hope to turn into the Storm overnight and it is not a relevant comparison but a team like the Sharks provides an example of what can be possible. The Cronulla side have an impressive forward pack but far from a star studded roster. However, aside from one-sided affairs against the Storm (round 13) and Roosters (round 19) they have been contenders in every game they have played and they have won eight of 12 games that were decided by 10 points or less.
The jury is still out on coach Elliott. There was a lot to fix after 2012 and he came into the job later than ideal but he was given plenty of tools - no coach in the history of the Warriors - or at least since John Monie - has had as much money and staff at his disposal. The team's success this year saw him achieve some personal milestones (first win over a Craig Bellamy coached side, first five match winning streak) but there are others, like the lack of a playoff win in several attempts, still to be ticked off.