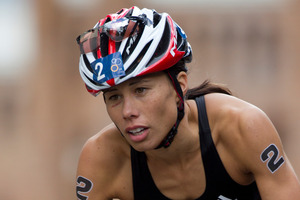 A poor run consigned Andrea Hewitt to fourth place in the triathlon world series as Great Britain continued their stranglehold on the sport.
Despite failing to make a single podium across the circuit this year, Hewitt looked set to sneak onto the third step after tonight's grand final in London.
But, needing to finish in seventh place to snatch bronze in the series, Hewitt faded badly on the run and eventually crossed in eighth - agonisingly outside the medals.
Hewitt came into the finale in fifth position overall and early set-backs for two favourites played into her favour. As she did on the same course during last year's Olympics, however, Hewitt couldn't keep up with the pace on the final leg.
She dropped off the group chasing Brit Non Stanford midway through the second of three laps. Hewitt never recovered and the chase proved in vain, with Stanford overcoming a time penalty to take the race and the series title.
In doing so, Stanford became the first woman to win the under-23 and senior titles in consecutive years, while the Brownlee brothers are hot favourites to make it a British double in the men's race.
Stanford was third entering proceedings, with American Gwen Jorgensen, German Anne Haug and the Brit separated by just 13 points. All three women knew a win in the grand final would result in a world championship, but by the second lap of the cycle leg it was a one-woman race.
Haug made the worst possible start to the race and, while it was unclear in the murky waters of the Serpentine, she must have suffered a mishap early on, such was her struggle.
The German fell to last place midway through the swim, left to fare for herself as her title rivals played it safe near the front of the field. Australian Emma Moffat led the field out of the water with Jorgensen and Stanford close behind, with Haug eventually exiting some two minutes in arrears.
And soon it was Stanford's crown to lose, when Jorgensen was involved in a crash and took her time to get back on the bike. The American looked dazed and was suffering from a bit of road rash, eventually pulling out of the race a lap later.
Haug and Jorgensen's misfortunes left the door open for Hewitt and the Kiwi needed to cross in seventh to finish ahead of Jorgensen on the podium. But Stanford's pace proved too relentless at the front of the field, leaving Hewitt to finish 1min 23sec behind in eighth.
There was some consolation for Hewitt - by finishing inside the top 12 she earned qualification for the Commonwealth Games.
- APNZ