Failure to find any meaningful opposition may haunt the All Whites as they face an uphill battle on the road to Rio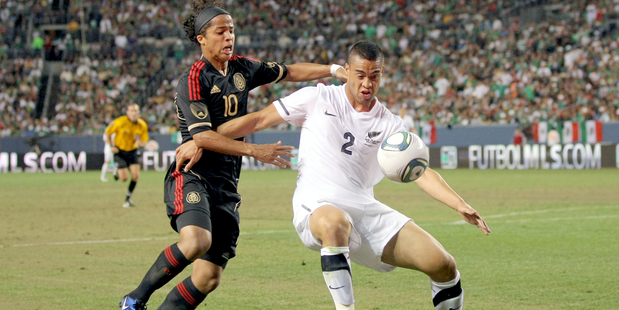 The All Whites are likely to play two games against Caribbean and Central American opposition in October, with Trinidad and Tobago, Haiti, El Salvador and Guatemala possible opponents.
These matches will be the last chance to get game time before the critical home-and-away World Cup play-off against the fourth-placed Concacaf team in November.
The matches are likely to be played in the United States, in Los Angeles or other American cities with large expatriate populations of the respective countries.
All the potential opponents would provide good tests for the All Whites, with Haiti (ranked 78th in the world) and Trinidad and Tobago (85) seen as the strongest possible foes.
If those fixtures don't eventuate, games against Canada in London and a European club side are seen as a fall-back option.
The fact nothing is locked in just two months out from the play-offs is far from ideal - like late arrivals at a buffet table, New Zealand Football now has slim pickings.
It also emphasises the gulf in preparations between the All Whites and their potential November opponents, likely to be Mexico, Panama or possibly Honduras.
Since February, those countries have been engaged in cut-throat home and away matches in the final six-team Concacaf series, which is dubbed the Hex and also includes the United States, Costa Rica and Jamaica.
In contrast, this year the All Whites had two games in March, against New Caledonia and the Solomon Islands, and friendlies against Saudi Arabia and the United Arab Emirates at the recent OSN Cup in Saudi Arabia, played in empty stadiums.
In the search for potential October opponents, a huge list of nations have been canvassed. A match against Scotland was mooted at one stage while negotiations have also been conducted with several other European nations, Bolivia, Venezuela and a swag of Central American countries.
Games against Concacaf nations have always been the priority, as they would replicate what the All Whites might face in November, but the failure to secure a fixture there has been partly a problem of economics and partly a problem of scheduling. Countries such as Haiti, Guatemala and El Salvador have no immediate desire or need for a match.
Their next major competitive event is the Concacaf Gold Cup in 2015, while the 2018 World Cup qualifying won't get under way until 2015.
The All Whites are also not a major drawcard, despite their healthy world ranking of 57. In 2009, New Zealand's appearance at the Confederations Cup, which included a draw with then Asian champions Iraq, edged them into the spotlight, which helped to eventually secure a friendly with Jordan before their play-off with Bahrain later that year.
Meanwhile, Ben Sigmund's fate is expected to be known in the next few days. The All Whites defender could face a lengthy suspension after his crude stomp on the UAE's Ali Mabkhout in the dying moments of the 0-2 loss in the OSN Cup final. Thankfully for Sigmund, Fifa's decision is unlikely to be made using video evidence and will instead rely solely on the referee's match report.