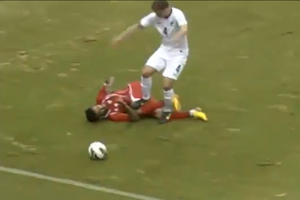 The hammer will drop on Ben Sigmund shortly, if most likely not with the ferocity with which he crunched down on the legs of the United Arab Emirates player.
Sigmund must be hoping soccer's world governing body, Fifa, delivers its penalty with the same feather-like touch Tana Umaga experienced from the New Zealand Rugby Union on Thursday.
It raises the question of punishments fitting the crime. The short answer is there's no perfect fit.
Former All White and commentator Sam Malcolmson, no shrinking violet in his playing days, believes Sigmund's assault on Ali Mabkhout to be the worst he has seen by a New Zealand player.
The All Whites' critical home and away World Cup qualifiers, against probably Mexico or possibly Panama, are in November.
Even if Sigmund - whose previous form line is as an uncompromising, no more, no less defender - is free to play, can he be trusted, especially in the heat of the Azteca Stadium before a cacophonous 100,000 crowd?
The chronology for Sigmund is that the referee Abdulameer Abdulshaheed, of Bahrain, sends his report to Fifa, who then pass the penalty on to New Zealand Football.
It was a shocking assault, something more likely to be enacted in the wilder extremes of South American soccer.
Among the defences put up on Sigmund's behalf was that his actions were out of character. That may be true, but it's no defence, so to speak. Whatever the future holds, it will stain the rest of Sigmund's career.
All of which makes the underwhelming response from NZF all the more disappointing. Fred de Jong, respected former international striker and now the national body's high performance manager, said "it wasn't a great foul, [it was] a silly foul".
It was far worse than that, and NZF know it. Perhaps they're tip-toeing with the World Cup qualifiers so close, and so important. That's no excuse for a bit of honesty.
As for Umaga, he must be quietly chuckling. A dose of public self-admonition was admirable but that can't excuse his verbal assault on referee Glen Jackson after Counties Manukau's loss to Auckland last week.
A two-game suspended ban from judicial officer Chris Morris is a nonsense sanction. It expires when the ITM Cup ends this season. What message does this send to referees?
And where were the words in support of the officials from NZRU chief executive Steve Tew? Referees are, after all, employees of the union.
That's not to say referees should be cocooned away from measured criticism in a professional environment. But there are protocols, and lines that should not be crossed.
Daniel Dubroca did, and his time as French coach ended with an ugly confrontation in the tunnel with New Zealand referee Dave Bishop at the 1991 World Cup; Ricky Stuart's spell as Kangaroo coach was up when he abused another official, Aussie referee Ashley Klein, in a hotel foyer after the World Cup final in Brisbane five years ago.
Had Umaga been a Heartland Championship coach largely unknown outside his union, and not a high-profile, and highly regarded former All Black captain, would the punishment have been the same?
Tew insists it would.
So how must the collective body of New Zealand's leading referees be feeling?
There is no simple, one-size-fits-all answer to offending and punishment. But the NZRU has dropped the ball badly here.
Sigmund will be hoping Fifa is similarly lenient.