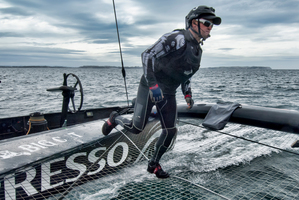 Team New Zealand trimmer Glenn Ashby has confirmed what we all suspect but few others in the team are willing to utter out loud - Oracle Team USA have run out of time and options.
Desperately scrambling to get themselves back in the America's Cup match, which they trail 0-6, the defenders plan to use today's rest day to re-examine their boat as they search for a way to nullify the Kiwi boat's upwind speed advantage. Skipper Jimmy Spithill hinted his team will make some hasty modifications in the short turnaround before tomorrow's races.
"We have to study the data and really see what we can do to the boat, we have a couple of options," he said.
But Ashby can't see Oracle being able to do anything to their boat at this point that would make any noticeable inroads into Team NZ's speed advantage. The Kiwi boat, Aotearoa, has been slowly refined over time, with the designers carefully planning a series of upgrades since the team have been based in San Francisco.
Ashby said Oracle's last-ditch attempts to improve their boat speed are acts of desperate men.
Any modifications the Oracle team made now to try and improve upwind performance would result in trade-offs in other areas.
"The boats are fairly well optimised at the moment and having come from totally different backgrounds and aerodynamic backgrounds it's a big ask." Huge modifications may be needed to get only a tiny gain. "They've engineered their boat for one direction, we've engineered [ours] for the other," said Ashby.
Having some knowledge of the inner workings of Oracle through his time at the syndicate during the 2010 Deed of Gift challenge against Alinghi, Ashby is surprised the team seem so lost at this point in their campaign.
"If you're thinking you need to find something you end up scratching to find little edges. Desperate men do desperate things at times and that can lead to gains, but it can also lead to losses."
Accidents do happen ...
It has been mentioned that the only way Oracle can get back into this regatta is by ramming Team NZ. In that event what would happen?
•Oracle have two boats and the other is competitive in terms of speed and handling compared with the one they are using.
•Team NZ does have a second boat, but it has been stripped for parts, so the advantage would definitely lie with Oracle.
•However, Team NZ would have the ability to go to the America's Cup international jury and seek redress if they have been disadvantaged by serious damage or injury. The jury can penalise a team and/or allow a team time to recover.
•Team NZ would likely be given 72 hours to repair or reconfigure.
•Oracle would face a lifetime of opprobrium for what would be a cynical last resort.