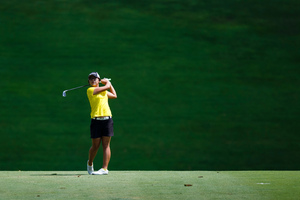 World No 1 amateur golfer Lydia Ko's challenge to become the youngest major champion in history will have to wait.
The first day of play at the Evian Championship, the year's fifth major, was washed out after heavy rain soaked the newly-designed course today.
Players were on course for less than an hour before being forced to come off and the organisers decided to restart the round on Friday with Thursday's scores annulled.
"We've had nearly four inches of rain since Saturday and the golf course is extremely saturated at this point,'' said Heather Daly-Donofrio, the LPGA's senior vice president of tour operations.
"It was clear when competitors were out this morning that conditions weren't conducive to a fair and equitable competition. So the plan is to scratch those scores from today and have all players restart the first round tomorrow.''
There is still hope that the tournament will be completed on time by playing 36 holes on Sunday.
"It's a major championship, and the goal will be to complete 72 holes [on time],'' Donofrio said. "So we're going to continue to watch the forecast over the next couple of days.''
Rain delays have happened more than officials would have liked in recent time with 36 holes played on Sunday at both the LPGA Championship in June and at the Women's British Open at St Andrews.
"The one thing you can't control is the weather. Our players are all professionals and they know this,'' Daly-Donofrio said.
"The LET [Ladies European Tour] players were joking in the locker room today that they have had so many tournaments that were delayed or cancelled for rain this year.''
The tournament, formerly known as the Evian Masters, is making its debut as the fifth major on the calendar. Over the past year, the course architects have undertaken a multimillion redesign.
''[It] was built under extreme conditions this winter. I've been here under the snow with the workers, I think every time I came in it [was] either rain, snow, sleet,'' Daly-Donofrio said.
"Then we had extremely high temperatures in August. The high temperatures really compacted the soil on the new course and then with the excessive rain we've had this week, the course is not able to absorb all the water.''
Ko, who two weeks ago became the youngest player to win two titles on the LPGA Tour, is playing her seventh major championship.
The world No 8, who is yet to miss the cut from 24 professional events, has recorded five top-10 finishes in pro events in 2013 including two titles.
- APNZ