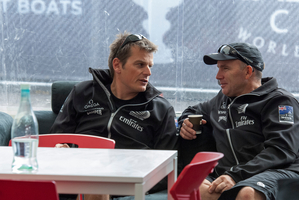 Drifting off Murrays Bay in his P-class dinghy - the breeding ground for champion New Zealand sailors - 12-year-old Dean Barker is rudderless. Still learning the ropes in the P-class, a difficult class for youngsters to handle, Barker has broken his rudder at the most inopportune time, leaving him a long way from shore.
He's not quite sure how he's going to get out of this mess until Ray Davies, one of the other kids from the Murrays Bay Sailing Club, sails alongside his stricken vessel, throws him a rope and tows him back to shore.
Nearly 30 years on, Davies still has Barker's back.
As skipper and tactician, the pair form the most important partnership on board Team New Zealand. Davies is responsible for calling tactics and helping Barker navigate the complex matrix of wind angle, tide, course boundaries and the position of the other team's boat to find the best path around the course.
It is a relationship that relies on strong understanding and trust, which developed through their years of sailing together and the tight bond they share off the water. But Davies believes more recent sailing experiences in the America's Cup World Series have helped to improve their combination on the water in San Francisco. The pair have seemed almost in sync with each other in the America's Cup match, outwitting the Oracle Team USA crew on the home waters.
Given the more physical nature of the five-man AC45 boats, Davies said he spent a lot of time running around with his head down, putting a lot more pressure on Barker to make the tactical decisions during the world series regattas.
"We've sailed together a lot and we banter a lot," said Davies.
"I think the AC45 circuit has been really good for Dean and I as a combination. I rely on Dean a lot to call the shots at times, and I think the 45s have been huge for our relationship."
Davies was just 12 when a young Barker, a couple of years his junior, joined the Murrays Bay club. The pair came through the ranks together, starting out in the optimist class, before switching to the P-class - the classic New Zealand yachting progression.
"I had a couple of years on Dean, so I always beat him. But he was obviously a guy coming through with a huge amount of talent," said Davies.
Also coming through the Murrays Bay club around the same time as Barker and Davies was Emirates Team New Zealand trimmer James Dagg, and several other top names in New Zealand yachting. One of their first coaches was former Team NZ grinder Craig Monk, who has just completed his sixth America's Cup campaign, albeit shortlived, with Swedish team Artemis.
"We've grown up through quite an interesting time in New Zealand yachting. There was a huge depth of talent that came through at that time. It was great to be part of it," said Barker.
While Davies might have come to his rescue in those early years, Barker didn't exactly repay the favour.
"We used to do these live-in weekends in P-class where during the winter months there'd be 15-20 kids go spend a weekend once a month living down at the yacht club with different coaches brought in," Barker recalls.
"I remember Ray and Daggy - they normally didn't come out of the pillow fights too well, they seemed to get targeted quite a bit - I suppose they they were easy targets."
A promising match racing talent, Barker later became a target himself after being talent-spotted by Russell Coutts and recruited to join the Team New Zealand programme, helming the B boat. Davies, meanwhile, went the ocean racing route, winning the 2001-02 Volvo Ocean Race on board Illbruck.
The pair linked up again for the 2007 America's Cup in Valencia, Davies initially serving as strategist before moving into the role of tactician, and they have formed a tight bond.
"We've had a huge history racing against and with one another over the years," said Barker.
"It certainly helps with the trust on board when you know each other so well, and we've definitely built up a good understanding of how the other one works."