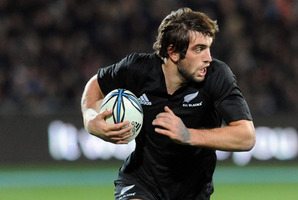 Sam Whitelock's season has been building to this point. Hardly a shrinking violet or a man without presence in 2012, there has, however, been something undeniably different about the 24-year-old this year.
He has found an edge. It wouldn't be right to say he's transformed from passive to active - but it's obvious he wants to leave an indelible mark: that he wants to run through rather than into opponents. He's become proprietorial, in that he wants to own the lineout, own the collisions and own his opponent.
The retirement of Brad Thorn after the World Cup left the All Blacks short of a hard man and in need of a towering physical force. That position sat vacant last year, but not this. Whitelock has decided to fill it, yet for all the progress he has made and for all that he looks to be the world's best lock, he can only confirm it by delivering against South Africa at Eden Park.
No other side asks the same questions as the Springboks. They are relentless in their physical approach and if any lock is going to earn the right to be considered truly world class, they have to be able to impose themselves and dominate for 80 minutes against the Boks.
"I think when you play the big games, and this is definitely a big game, your big players have got to step up," said All Black coach Steve Hansen. "That is when you expect them to be at their best and he's one of our big players. I think the guy beside him is also a big player - [Brodie] Retallick is also proving to be an outstanding lock as well and with both those guys the expectation is that they will front up and have a great game.
"If you go through the big tests, the World Cups and so forth it is in those moments that you see the big players step up and play well regardless of what country they are playing for.
"So yeah, he [Whitelock] has got a big day out."
It's a simple, stark reality that the All Blacks face tomorrow - they have to contain, subdue and then at some stage, get on top of the South African pack. The All Black tight five have had it drummed into them that the test is essentially all about them - that the game will be won or lost at scrum, lineout and breakdown. Whitelock, part by longevity but more by contribution and ability, has become the focal point of the All Blacks' tight effort. He has set the tone in recent weeks with his aerial work, turning the All Black lineout into a competitive weapon.
The Wallabies, in the final half hour in Wellington, were a shambles on the touchline - unsure where to throw to avoid the looming threat of Whitelock. The Pumas were much the same, but can Whitelock put the South African lineout under the same pressure?
The bigger question yet, is whether he can put doubt in the mind of Eben Etzebeth. There is mongrel in the young Bok, a willingness to be the new Bakkies Botha. South Africa have a proud record of producing intimidating locks and Etzebeth wants to carry that on.
"We have got to do the job in the tight five," says Hansen. "If we don't do that then the South African loose forwards as a trio will dominate. If we do the job as a tight five then our loose forwards will dominate.
"That's always the case as far as I can remember in rugby."
Sam Whitelock
Age: 24
Height: 2.02m
Weight: 115kg
Caps: 44
Debut: June, 2010
Points: 20 (4 tries)