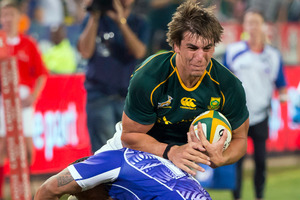 Down in the Cape when they yarn about some of the rugby characters in Western Province, the Etzebeth surname gets a regular recall.
It provokes knowing looks about men who got things sorted on the rugby field and could also take that justice elsewhere. Several in the Etzebeth clan wrestled for South Africa, another played rugby for WP, others worked in the police force and were bouncers.
They could all look after themselves just as Eben Etzebeth, the young Springbok lock, has shown in the cradle of his test career.
He has pulled on the Boks jersey 17 times and does not turn 22 until late next month. At 2.03m and 125kg, he really is the beast in the pack and someone who has sorted out his targets.
"I don't want to live off a name that they set down before me," he told questioners last year.
"I want to create my own legacy and let it stay there for years to come."
Etzebeth exudes power and bristling aggression in the rugby arena where highly skilled hostility is a pre-requisite for test tight forwards. He has been known to cross the line but there is no reverse in Etzebeth's nature.
He is about the same size as Brodie Retallick and a shade younger and if both progress as they have, their duels could light up All Black-Boks clashes like Colin Meads did with Frik Du Preez in their pomp.
Etzebeth creates gym and sprint numbers to frighten his conditioners, but like every young man making his way into test rugby, has to understand how best to make those attributes count.
At Province he played alongside behemoth Andries Bekker who was a remarkable talent but never quite dominated test rugby.
Bekker was even bigger, ruled the lineout, got around the field and was some ballast in the scrums. Somehow that frame never quite exploded in tests with its full clout.
There was always a bit of the Ali-Foreman rope-a-dope feeling with Bekker, that he would exhaust himself on tasks away from more profitable core roles.
You don't get that feeling with Etzebeth. He is menacing even from the grandstand. Five years ago Etzebeth was playing for his Tygerberg High School's second team out in the centres.
A scout spotted him and offered him a place in the WP squad if he promised to play lock.
No dramas said the young man, who quickly repaid some of the spotter's fee.
As his rugby tuition increased, he went through a remarkable growth spurt adding something like 25kg and 15cm with his gym work, eating and natural genes.
He became part of a 2010 intake at the WP Rugby Institute with fellow inductees Siya Kolisi, Frans Malherbe and Nizaam Carr who have continued their progress.
Etzebeth's progress went up a notch for the Baby Boks at the 2011 World Cup before he shot into the Stormers ranks and a Bok debut last season at just 20.
It has been a remarkable start from the man known as Xerxes in reference to the god-king figure in the 300 movie. That nickname will jest and confront the man from the Cape to see whether he can perform super-hero deeds for the Boks.
Eben Etzebeth
Age: 21
Height: 2.03m
Weight: 125kg
Caps: 17
Debut: June, 2012
Points: 0