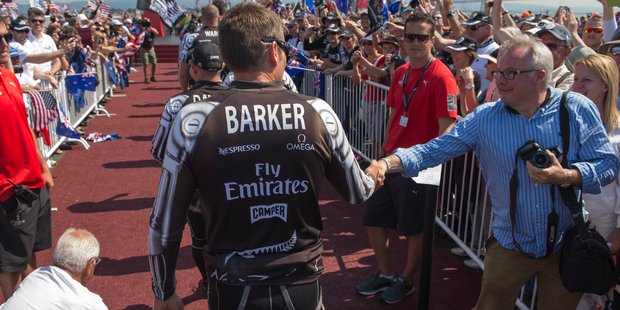 Emirates Team New Zealand have made many new fans during the America's Cup - the latest being the sports editor of the San Francisco Chronicle.
Oracle Team USA did themselves no favours among their supporters after playing their postponement card during yesterday's racing, with the local paper demonstrating how far removed from the home team San Francisco feels.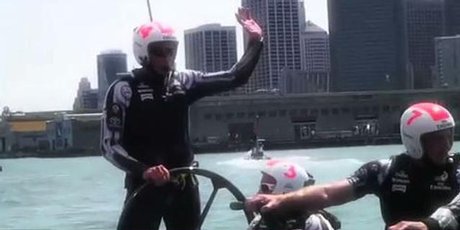 "San Francisco has always been a hardscrabble town that will fight for its right to party," Chronicle sports editor Al Saracevic wrote. "And, certainly, most definitely, San Franciscans never walk away from a fight.
"Team New Zealand is a publicly funded entity, fighting for the pride of a nation of 4.4 million with a GDP smaller than that of Colorado.
"Simply put, Team New Zealand is a lot more San Francisco than Larry Ellison will ever be."
Ellison, the fifth-wealthiest man in the world, does little to help his team's chances of engendering support from San Franciscans. The business magnate may have helped to bring the America's Cup back to the United States for the first time since 1995, but a series of legal disputes and ill-advised comments have rubbed many within the sport the wrong way.
"Whichever way you cut your jib, Larry Ellison's substantial hubris hangs over the America's Cup proceedings like a shroud," Saracevic wrote. "Which is too bad. The man invested hundreds of millions of dollars to improve the sport of sailing, only to suffer embarrassment and disdain on his home turf.

"Although [skipper Jimmy] Spithill said the decision to quit [Wednesday's] racing was made on the Oracle catamaran, here's guessing the decision came from Ellison's nearby yacht. The billionaire does not like to lose."
The Chronicle noted that decision, while well within the rules, felt like "poor sportsmanship" and called it an "unsavoury move", but one over which Dean Barker and co would lose no sleep.
"[It] seems to suit New Zealand just fine. The team just keeps showing up and beating Oracle, regardless of the time or day. It's a loose bunch of guys who are here to win, while having some fun along the way.
"That attitude makes it hard to root against the Kiwis. So, apparently, nobody does."
The paper talked to a number of locals who had come to support the Kiwi cause, ensuring the groundswell of goodwill Team New Zealand have enjoyed every day on San Francisco Bay will only continue to grow before tomorrow's races.
"I have Kiwi fever," the Chronicle quoted Lisa Gordon of Menlo Park. "I love 'em. Their spirit. Their sense of adventure. Their friendliness. And they like to party."
- APNZ