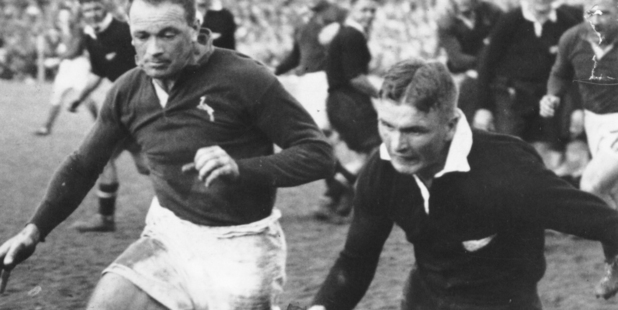 I am pretty sure the players in this picture are Springbok great Danie "Doc" Craven and Jack Sullivan.
In 1937, in the test in Auckland, South Africa won 17-6 with Craven giving one of his finest performances in his halfback position.
It was the last time the Springboks won at Eden Park and the score could have been greater if the South Africans' goalkicker could have converted more of his team's five tries.
Sullivan played on the wing, having played at centre for the previous two tests. In the second test at Lancaster Park he scored two tries - one coming from an intercept followed by a kick and chase in the one movement.
Some commentators believed his shift to wing reduced his ability to have an impact on the third test.
The reason this is a great photo is because both of these men went on to become long-serving administrators of New Zealand and South African rugby.
Doc Craven had a great record as coach of the Boks during his tenure from 1949 until 1956. He became the President of the South African Rugby Board in 1956 and in the post-apartheid era was the boss of the South African Rugby Football Union from 1992. When he died in 1993, he had served 37 years as the head of South African rugby.
John "Jack" Sullivan coached the All Blacks on their 1960 Tour of South Africa. He was first elected to the NZRU in 1962, becoming chairman from 1969 until 1977.
Craven and Sullivan were friends and this was claimed to be one of the reasons why New Zealand toured South Africa in the apartheid era.
Malcolm Mulholland is a rugby historian who authored Beneath the Maori Moon and a PhD student at Massey University.