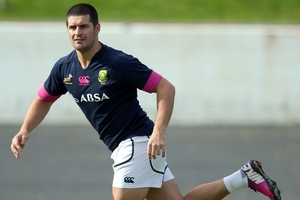 Morne Steyn is a poster-boy for offshore selection.
The Springbok sharpshooter has rolled back into some better form this season as his plans formed to dovetail his test career with a new life at Stade Francais in Paris.
The 29-year-old has played with more freedom this year as the Springboks have ploughed a formidable run of nine test wins since they last lost, 16-32, to the All Blacks in Soweto last October.
A number of Springboks such as young lock Eben Etzebeth and centre Jan Serfontein were making their way into test rugby and discovering the different rhythms at that level of the game.
"The time we have been together now, we are more experienced and confident," Steyn said.
He was more at ease with life and his game than he had been for a few years and that was helping as South Africa look to end the All Blacks' unbroken run of success since 1994 at Eden Park.
"I think when you get to the end of your career you must enjoy your rugby and that is the important thing to me; just to enjoy every moment on the training field and playing field," he said.
He had played for the Bulls for a decade and the switch to France was a refreshing chapter. Already Steyn felt a lift in his work and thought it could extend his career.
"I think the whole thing of getting away, not away from rugby but just a different scenery, different teammates and teams and stuff, just to freshen the mind a bit," he said. "So when you come back to the Springboks there is a different vibe."
The forecast for Saturday may be for rain but Steyn promised South Africa could adapt to any conditions. There might be more kicking then so that would be up to him, the halfback and fullback to dictate field position.
South Africa had done well to barrel past the Wallabies last week and now they had a chance to create some more history in Auckland.
"I never think of losing," Steyn added.
That uncertain baggage was carted around by the Springboks last year, but this group was a more composed model who were confident and had everyone playing on the same wavelength.
Backline coach Ricardo Loubscher said the result in Brisbane showed how records could be broken and that confidence had filtered throughout the squad.
"We have got to prepare well and look at our game," he said.
There were a number of details to clean up but the Springboks were up for the challenge from a strong and pacey New Zealand side.
Players such as Steyn showed their class and why he was a match-winner.
After a long apprenticeship with the Bulls, Steyn broke into the Springboks five years ago and has created all sorts of points-scoring records in that role.
He rates Daniel Carter as the premier All Black five-eighths, with a strong push from Aaron Cruden, and is readying for more defence work against the demanding Ma'a Nonu.
"I've done it for seven or eight years.
"He is quite a tough man to stop but we also have exciting backs and we want to get the ball in our hands," he said.