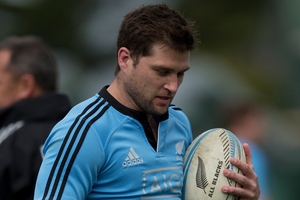 Cory Jane was an unexpected presence at All Black training yesterday and he says he hopes to make a comeback from his knee reconstruction next month.
Jane is back running after seriously injuring his knee in a pre-season match for the Hurricanes in January, something that ruled him out of the Super rugby competition.
He hopes to take the field for Wellington against Auckland on October 5, with the All Blacks' end-of-year tour in mind.
"That's the plan," he said. "Obviously I have to get back on the field first and feel comfortable that everything I've done is good and I can handle it out on the field - and then hopefully these guys will pick me."
Ben Smith has proved an able replacement on the right wing, but Jane, 30, who has played 41 tests, welcomed the competition.
"Competition's good. If I do come back and Ben's still on the wing he can play fullback as well so that will make the whole back three really have to work hard to get a spot.
So competition's great."
Jane added of his months of rehabilitation: "It hasn't been as hard as I thought it would be. I've obviously had my problems with the leg but I've been doing a lot of other things outside of rugby. I'm ready to get back on the field and play some rugby now."
All Black playmaker Dan Carter said Jane's appearance at training was a welcome one.
"To see him back out there running was great to see, he's an awesome player and the fact he's slowly getting on the other side of a tough injury is encouraging."
- APNZ