The appeal of competing alongside NZ's eventing greats is drawing young riders.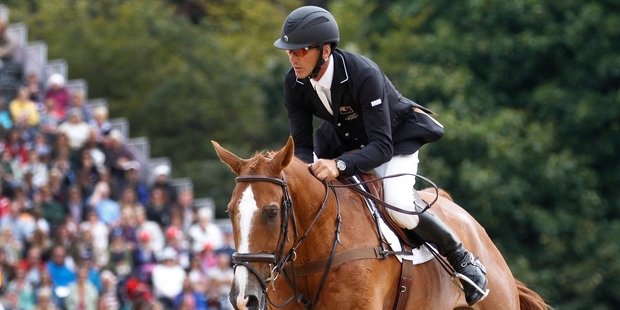 The lure of competing alongside New Zealand's senior eventing statesmen Mark Todd and Andrew Nicholson is a huge motivator for the young riders coming through, says high-performance coach Erik Duvander.
Having overseen a remarkable performance by New Zealand riders at the Burghley four-star event at the weekend - won by Jock Paget, with world No 1 Nicholson second, third and eighth, and Todd and Jonelle Richards also in the top eight - Duvander is rapt by New Zealand's standing in the eventing game.
"We're riding a wave, no doubt about it," Duvander said from England yesterday. "All the young riders still say they want to be part of a team Mark and Andrew are in."
It's proof that star wattage matters. You could almost add 29-year-old Paget's name to that group, after his Badminton-Burghley four-star double this year on Clifton Promise. However, he is just starting on what promises to be a fabulous career.
And the two 50-plus legends of the game, both six-time Olympians, are still at the top of the game.
Nicholson won three of the six FEI Classic four-star events this season, and was second and third at Burghley.
Double Olympic champion and FEI Rider of the Century Todd remains, at 57, among the best as demonstrated by his fourth Badminton victory in 2011 and his part in the Olympic team bronze in London last year.
Duvander will shortly switch the focus from individual performance, which is the nature of the European season, to team building ahead of the World Games in Normandy next August. The spirit is strong among the New Zealand riders.
"It's a little bit infectious," he said.
"When someone steps up everyone wants to keep up to the same level. Depth comes from that, and wanting to belong to this team."
Duvander, who took the job after a disappointing performance in Hong Kong at the 2008 Olympic Games, was delighted at what the New Zealanders achieved at Burghley.
He singled out the opening dressage phase, which for years was New Zealand's Achilles heel, for special praise. Seven New Zealand entries were inside the top 20 after the dressage.
Paget had the lead at that point, and was fifth on his second mount, Clifton Lush, which was withdrawn after the cross country; Nicholson was third and seventh, Richards 12th on The Deputy. It ensured they were in contention going into their best phase, the draining cross country.
"New Zealand's had a bit of a reputation for not having quality dressage, but these guys have worked their butts off and are now performing to the highest level and putting themselves in positions to win," Duvander said.
When he took charge, he estimated it would take seven years for the necessary cultural change within the New Zealand operation. There was a belief younger riders were starting to take things for granted. Not any more.
"It's been happening a bit quicker, so that's brilliant," Duvander said.
"It is exciting, but there's no rest for anyone. We know the competition is stiff and we still have to be better for the World Games if we're going to win it."
Kiwis at the Classics
*Pau, October: Andrew Nicholson and Nereo 1st
*Kentucky, April: Nicholson and Quimbo 1st, Nicholson and Calico Joe 3rd
*Badminton, May: Jock Paget and Clifton Promise 1st; Nicholson and Nereo 3rd
*Luhmuhlen, June: Nicholson and Mr Cruise Control 1st
*Burghley, September: Paget and Clifton Promise 1st; Nicholson and Avebury 2nd; Nicholson and Nereo 3rd.