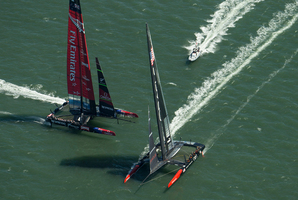 Prime Minister John Key says the Government is only likely to fund another New Zealand bid for the America's Cup if Team New Zealand win the competition.
He said this afternoon that if captain Dean Barker's crew went on to win in San Francisco, the Government would have to consider what support it would provide.
Team New Zealand has a three-point lead over Oracle in the first-to-nine finals series.
The Ministry of Business, Innovation and Employment was already looking at what would be required to upgrade the Auckland viaduct if New Zealand hosted the competition again.
Mr Key said: "On the basis that they win the cup, then it's far more likely that we would be looking to make a contribution to another effort."
He added: "If they lost it would be much more difficult for us to put money in again."
A Government subsidy was likely to be larger than the $36 million that Labour committed to Team New Zealand in 2008 because it would have to cover infrastructure changes.
National criticised Labour's investment in the cup when it was made, and scrutinised it when it entered government later that year.
Mr Key said today that the National-led Government faced predictions of high unemployment and a long-term deficit, and it needed to be sure that the investment was sound.
"There were a lot of New Zealanders saying that giving money to the America's Cup was pretty much in their nice-to-haves compared to giving support to people who might lose their jobs."
Asked whether it was a good investment, he said: "Come and ask me if they win."
Mr Key said that hosting the America's Cup was highly affordable compared to hosting the Olympics.
"I don't see there to be any fiscal threat that we couldn't actually manage."
He was not concerned about the lower-than-expected attendance at the San Francisco event. He said the event could be more successful in a smaller, yachting-mad country.
Hosting the competition was not only valuable for tourism but also in lifting New Zealand's profile.
It was "highly unlikely'' Mr Key would see any races in person because of a planned trip to the UK, France, and New York.