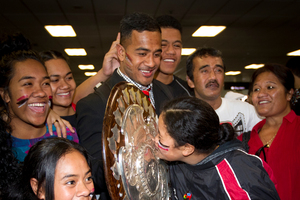 The victorious Counties Manukau rugby team have presented the newly-claimed Ranfurly Shield to a large crowd of supporters this afternoon.
More than 100 fans, many in the red, black and white of the team, greeted their heroes when they landed at Auckland Airport this afternoon.
As the team filed out with captain Fritz Lee holding the Log o' Wood, students from Pukekohe High School performed a haka, before rushing forward to hug the players.
Many fans had brought their children to witness a Counties team bring home the shield - the first time it has happened since the union's formation in 1955.
Coach and former All Black captain Tana Umaga, who never won the Ranfurly Shield in his own stellar playing career, said the welcome underlined how much the victory meant to the region.
"A few of our boys woke up this morning thinking it was a bit of a dream, but it is real.
"And to come here and be embraced by this - it just keeps getting better for our boys, and it is great to see what they've achieved...it's great for us as a team, but us as a community as well.''
The Steelers will show off the shield again tomorrow at celebration parades in Manukau City (10.30am), Papakura (12.30pm) and Pukekohe (3.30pm).
Counties claimed the shield after a 27-24 win over Hawke's Bay at Napier's McLean Park on Saturday.
They will now defend it against Taranaki in Pukekohe next Sunday.