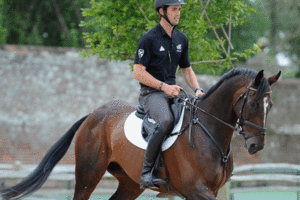 New Zealand riders have an iron grip on the Burghley horse trials going into the final showjumping round, and leader Jock Paget is eyeing a place in equestrian history.
Paget leads the field on his Badminton trial winner Clifton Promise after a tough cross country phase. He is 4.9 penalty points clear of his second entry, Clifton Lush, with defending champion and fellow New Zealand team member Andrew Nicholson third on Avebury a further 1.3 points back.
With a dropped rail worth four penalty points, effectively Paget can knock over one rail in the showjumping and still win with Promise. Two rails down, and a further one by Lush would open the door for Nicholson.
Not since 1989, and Britain's Virginia Leng and Master Craftsman has a combination won both Badminton and Burghley in the same year.
''Being in this position is one of those things you never get to enjoy when you're in it," Paget said.
''There is too much work to do to sit down and enjoy it."
Nicholson is also sitting fifth on Nereo and eighth on Calico Joe in a remarkable individual performance. Only three combinations, Paget and Lush, and Nicholson with both Avebury and Calico Joe completed the cross country in the optimum 11min 24 sec without penalties.
Paget did have a couple of scares, with both horses pulled up to be checked for injury.
Promise had bitten his tongue while Lush had knocked his nose with a knee. Promise almost jumped over a fence judge who tried to flag the combination down to check the horse's nose.
''I saw her waving a flag as I came round the corner but by that time I had seen my distance and was committed on my stride," Paget said.
His fingers are crossed for Promise, for whom Paget hinted the clock is ticking.
''He's such an amazing horse he deserves the Badminton-Burghley double. He is getting on a little now and I'm not sure how many runs he will have in him after this. It would be nice to bag the win."
World No 1 Nicholson has already won the Classics crown this year and Paget paid tribute to his part in the younger man's rise.
''Andrew is a hero and he has helped me a lot. Without him I wouldn't be here so it's great to be up at the front with him," Paget said.
The other two members of the New Zealand bronze medal-winning team from last year's Olympics, Jonelle Richards and Mark Todd are also in the top 10.
Richards is sixth on The Deputy after a fine cross country effort, which incurred just 1.2 time penalties, while double Olympic champion Todd sits 10th on Oloa.
German Ingrid Klimke, who was second after the dressage on FRH Butts Abraxxas, dropped to seventh with 9.2 penalties.
Standings after the cross country:
Jock Paget and Clifton Promise (NZ) 37.1 penalty points 1, Paget and Clifton Lush 42.0 2, Andrew Nicholson and Avebury (NZ) 42.3 3, William Fox-P)itt and Parklane Hawk (Britain) 42.3 4, Nicholson and Nereo 43.3 5, Jonelle Richards and The Deputy (NZ) 47.4 6, Ingrid Klimke and FRH Abraxxas (Germany) 48.2 7, Nicholson and Calico Joe 48.3 8, Nicola Wilson and Opposition Buzz (Britain) 50.9 9, Mark Todd and Oloa (NZ) 55.5 10. Also:Richards and Flintstar 68.2 23.