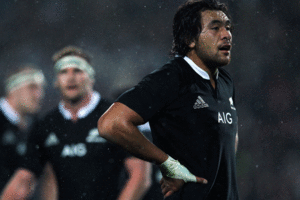 Herald rugby writers Patrick McKendry, Gregor Paul and Wynne Gray answer the key questions from an ugly All Blacks victory over Argentina last night.
1. A scrappy, disjointed test last night; was that solely down to the drizzly conditions?
PM: The rain played a major part in making this test an average spectacle, but it wasn't solely to blame. If the All Blacks could play it again, they would do things very differently - the main change being to kick for territory a lot more. They took their usual ambitious game plan into the test but didn't change it as the conditions worsened.
GP: No. Steve Hansen himself said he would have liked to see a bit more kicking. There's no shame in it - bang the ball long or high and then apply the pressure. England won a World Cup like that. Substance over style - not always a bad thing.
WG: No. The All Blacks seem to have a 'we'll play our expressive style come hell or high water ' approach.
Sometimes they need to temper that and play a territory and low risk game to suit conditions.
2. How will the All Blacks cope without Richie McCaw against the Boks and beyond?
PM: Step up Sam Cane. The test against the Springboks at Eden Park will be a searching examination of Cane's attributes. The Boks were rampant, and ruthless, against the Wallabies in Brisbane. How he copes with their guile and physicality will be crucial and even more of an emphasis will go on the forward pack and Dan Carter to set the tone. The other thing is, Cane rarely starts consecutive weeks for the Chiefs - can he back it up through the rest of the Championship? Matt Todd could have a role to play here.
GP: Better than they would have this time last year. Those three games without him in June were helpful - Kieran Read will have more idea what to expect and the whole business won't feel so unusual. The confidence of being at Eden park will also help so the bigger challenge will come on the road - winning at Ellis Park without him. Would be huge if they could do that.
WG: The big question. McCaw's guidance and influence on his team, his connection with the referee and vaste experience of many situations, will be missed. However Kieran Read and Co have been there before and need to step up as injuries and rugby are inevitable.
3. Has Steven Luatua suddenly become the All Blacks incumbent No6? What can he improve on?

PM: Yes, he has shown enough in starting the three Championship tests for the All Blacks that he has the goods. He loves the open, wide-ranging stuff (though would do well not to drift over the sideline as much) but I'd like to see a bit more physicality on defence too. Overall, though, an excellent start to what could be a long career at the top. Liam Messam has a job on his hands to wrest that No 6 jersey back.

GP: Luatua keeps doing plenty right and each time he plays he looks more comfortable. The All Blacks won't necessarily feel they have a pecking order at the moment. They have an experienced campaigner in Messam and an emerging force in Luatua - maybe later this year or early next, they will feel they need to determine who is their best option.
WG: Luatua is playing strongly. As long as he keeps the balance between roaming and hard core graft, he will be hard to shift from the No 6 role.