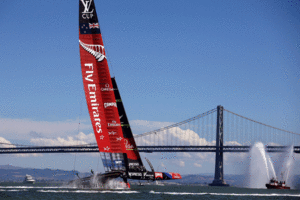 Paul Lewis and Dana Johannsen answer the burning questions from the opening day of racing in the America's Cup.
1. Let's start with the bleeding obvious: that was really, really good wasn't it?
PL: Yes, it was, and the early indications are that OTUSA may not be as competitive as we figured though it's probably too early for that call.
DJ: We all expected that with Team NZ and Oracle more evenly matched in terms of boatspeed, the racing would be tight. But today's racing exceeded all my expectations. Get two of these high-powered racing machines in the same stretch of water and the result is pretty bloody spectacular.
2. Where did Team NZ have the edge on day one?
PL: Upwind, and Dean Barker had the better of Jimmy Spithill today -- but that upwind speed looks a key factor.
DJ: Upwind speed and near-flawless manoeuvring. It was said repeatedly in the lead-up that upwind performance would be crucial for the teams, and it looks like Team NZ have found a nice mode upwind.
Once again their boat-handling was slick, bar one small mistake at the bottom mark on race one.
3. A double-barrelled question: what would this have done to Oracle's state of mind and can they find extra boat speed in such a short time frame?
PL: They will be worried. 2 points to -2 is not a good place to be. They didn't even look that hot downwind. They will be trying to find some extra speed but it's difficult to make too many meaningful changes quickly and effectively -- time will tell.
DJ: Oracle were already up against it heading into the match, now the hill looks that much steeper. We can't write them off yet though - the two boats are still very evenly matched. Oracle also had some damage to their wing in race two, which may have slowed them down.