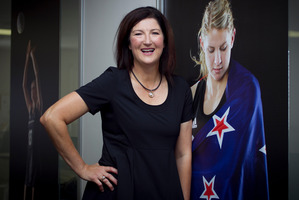 Their partnership has been one of the most celebrated in Silver Ferns history but new assistant coach Vicki Wilson believes she can take Irene van Dyk and Maria Tutaia to new heights.
It's an ambitious claim from the Australian, on the eve of the Constellation Cup and with the Glasgow Commonwealth Games less than a year away.
After some difficulties combining in the early days, Tutaia and Van Dyk have become the "ebony and ivory" of New Zealand netball, bringing a sense of perfect harmony to the small attacking circle they have occupied over the last eight years.
Van Dyk is still one of the best in the sport at gaining space and time close to the post, while Tutaia is impeccable from distance.
With no obvious challengers to their position - Cathrine Latu has gone backwards over the last two years while Jodi Brown is steady more than spectacular - the 41-year-old Van Dyk (139 tests, debut in June 2000) and the 28-year-old Tutaia (76 tests, debut in June 2005) need to maintain the magic.
Still Wilson wants - and hopes - for more.
"They have been brilliant as we all know," says Wilson. "But we want to add more to their game. It is about having more options on attack to deal with different defensive structures that we come up against.
"We want to have various attacking models and not be too reliant on a certain pattern."
Wilson was the unforseen choice as Taumaunu's assistant in May. While other sports, notably league and football, have been happy to use foreigners in coaching roles, Netball New Zealand had never gone offshore for senior appointments. As a player Wilson was a constant thorn for the Ferns, in a career stretching from 1985-99 that included three consecutive world championship titles, in 1991, 1995 and 1999. She coached the Firebirds from 2006 to 2009 and was the specialist shooting coach for the Thunderbirds in 2010.
The 48-year-old will offer some insight into the Australian way, the short-passing, fast-moving style of play that has characterised the Diamonds displays for decades.
She calls van Dyk "an inspiration" and waxes lyrical about the veteran's ability to continually reinvent her game. But she wants her to avoid getting caught up high in the circle and get re-positioned early if the ball doesn't come when it should. She also hopes van Dyk will extend her range, becoming a genuine option further from the goal post.
For Tutaia the key is involvement.
"Maria has impeccable timing," says Wilson. "But it is important for her to keep her level of involvement high, both with and without the ball and pick her moments."
The Ferns also want Tutaia to become a more dominant feeder.
Under Wilson's watch you may also see a more conservative, direct approach from the Ferns on attack. While the New Zealanders have always been known for being patient in possession, Wilson feels it can be overdone.
"I don't want to see the shooters passing it back out to the middies five times," says Wilson.
"We need to respect the work that people have done to get the ball, and get it down the court. We can't afford wastage in the goal third - it is a real killer. We need to be reliable, in terms of volume and accuracy."
It will be even more pronounced in the upcoming series, which starts in Invercargill next Sunday, with an inexperienced midcourt (after the withdrawal of Liana Leota and the loss of Kayla Cullen and Camilla Lees) meaning the Ferns need to take every possible opportunity under the posts.