Chris James had the world at his feet before it all went wrong - Friday's All Whites return marked a bright spot on a dark road.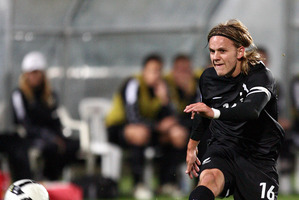 Chris James is not so much the forgotten man of New Zealand as the player who almost disappeared off the radar.
After once spending almost four years at a Premier League club, as recently as last year he was playing semi-professional football in the inglorious surrounds of Sydney's Leichhardt Oval.
His return to the All Whites, playing 90 minutes in the 1-0 win over Saudi Arabia on Friday, capped a remarkable comeback to the top level.
Before that his career summation might have read: He came, he shone, he was gone. This may not yet be the beginning of a new chapter but at least he has given himself a chance.
"It's great to be back in this team," says James. "It's a great environment to be in and nice to have the chance again after such a long time."
Back in the mid-2000s James was tipped as one of the next big things in New Zealand football. Born in Wellington, his family moved to London when he was 13.
A young talent, he was good enough to make nearly 30 appearances for England at youth level (under-16 and under-18) and then signed a professional deal with Fulham as an 18-year-old in 2004.
He also started promisingly for New Zealand, making an assured debut off the bench in a friendly against then world champions Brazil in 2006 and scoring from the penalty spot in a subsequent match against La Liga side Sevilla.
At Fulham he played over 60 reserve games, rubbing shoulders with the likes of Clint Dempsey and Wayne Bridge at Craven Cottage but never made a first team appearance. James was offered a one-year contract extension by the London club in 2007 but turned it down, opting to seek a starting spot elsewhere.
It was a brave, some might say ambitious decision - James says now he wanted to "step into the man's world" - that didn't pay off. He wasn't picked up by any British club and ended up signing with Finland's Tampere United. He scored goals in two Champions League qualifying games (against Hungarian and Slovakian opposition) and had a reasonable first season but was then loaned out to other Finnish clubs. James was eventually released on a free transfer, with a brief stay at League Two club Barnet at the end of the 2009-10 season.
His international appearances had become more sporadic and after being included in the 2009 Confederations Cup team, he was out of the All Whites' picture.
Hampered by persistent injuries and with confidence at an all-time low, James returned to the Southern Hemisphere in 2010, playing for Apia Leichhardt in the NSW Premier League. It was a big, but perhaps necessary, step down for James.
"I had to sort myself out," remembers James of his time in Australia. "I'd had injuries on both knees (IT band) and my confidence had been knocked around a bit with time away. I just needed to play, to get some time on the ball."
James got on the long road back when he returned to Scandinavia in 2012, signing with Kuopion Palloseura. It's a modest Finnish club (their stadium has a capacity of 5000) based in the south east of the Nordic country whose alumni include former Wimbledon and Jamaican striker Marcus Gayle and ex-All White Adrian Webster.
"It's become my second home," says James of the country famous for being the home of Santa, sauna and sisu (indomitable spirit).
"It's been a good step for me. I don't want to be in my comfort zone and as a footballer you always want more but for now I am focused on doing the best I can for Kuopion."
Finns are notoriously reserved - "I barely spoke to my next door neighbour in three years" - but he has enjoyed the experience. Almost the entire pre-season is conducted indoors on turf due to the extreme winter temperatures and four of the 12 first division teams play on artificial turf all year round.
Like many a young star, James just sounds happy to be given a second chance.
"I've been working hard," says James. "I've matured as a player and grown up as a person. And my club has helped. They've been in contact with New Zealand Football, pushing my case. Now I guess it is up to me."
James was solid on Friday against an uninspiring Saudi Arabian side, in difficult conditions where the mercury was hovering in the mid-30s despite kicking off after 9pm. The 26-year-old looked comfortable, had a busy game and put a long-range free kick just over the crossbar.
A striker or attacking midfielder in his youth, he now feels his best position is in a holding midfield role, so he is competing for the vacant spot beside Michael McGlinchey (though Ivan Vicelich, Andrew Durante and Tim Payne appear to be further up the queue).
"Chris did a decent job on Friday and this window is a good chance to have a look at him," says All Whites coach Ricki Herbert. "He has had a lot of instability over the last few years, it's always hard when you are not playing and changing clubs and I think there was some indecision on his part about [which position] he wanted to play. It's one of the hardest aspects of football and you see a lot of guys who drift away. I'm just delighted for him that he has made it back."