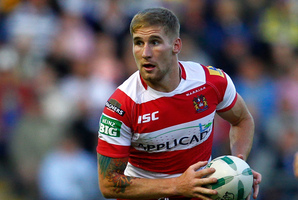 Sam Tomkins has signed with the Warriors and will be unveiled by the club in the next 10 days.
The Super League star told British media last week that he had made "no plans" for the next two years and also claimed he had the 2015 Rugby World Cup on his radar.
There were also reports after the Challenge Cup final claiming he may stay with Wigan.
But the Herald on Sunday understands the Warriors' deal with Tomkins was completed last week.
He will be one of the highest, if not the highest paid player in the club's history, with an annual salary believed to be more than $750,000.
The 24-year-old fullback, who starred in Wigan's Challenge Cup triumph over Hull last week, won't be seen in New Zealand until at least mid-December.
At the end of the Super League season, Tomkins will join the England team at their pre-World Cup training camp in South Africa.
Tomkins, who has scored 145 tries in 149 games for Wigan since making his debut in 2008 as a 19-year-old, has yet to visit Auckland during his dealings with the Warriors, but his mother has been in town to survey property options.
His signing represents the biggest recruitment gamble in the history of the Warriors, especially given their chequered past with British imports (although most were signed in another era).
Even allowing for inflation, Tomkins' salary will be significantly more than those of Steve Price and Ruben Wiki and also exceeds current high earners at the club such as Feleti Mateo, Manu Vatuvei, Simon Mannering and Shaun Johnson by "hundreds of thousands", according to a source familiar with the deal.
The details of the Warriors contract is unknown but the Sunday Mail is reporting that the Gold Coast Titans tabled a three-year deal in late April worth around A$700,000 ($803,000) a year and the Warriors deal is thought to be around the same. That Titans offer was said to be less that the initial asking price of the Tomkins' camp, though the Gold Coast lifestyle was also a drawcard.
The Sunday Mail says the negotiations eventually stalled after Titans coach John Cartwright and shareholder Michael Searle expressed reservations about the huge salary offer.
That is understandable - with several stars already at the club, including Greg Bird, Nate Myles and Jamal Idris, he would be wary of upsetting the dressing room. Mega-salaries are nothing new in the world of soccer (especially in England) but league remains somewhat more of an egalitarian game at heart.
His new Warriors team-mates will welcome him and expect a high level of performance.
Such a wage will bring huge expectations from fans, especially on a player who is an unproven talent in the NRL. British stars such as Sam Burgess, Gareth Widdop and James Graham have all been revelations on this side of the world but none were under the microscope the way Tomkins will be when he arrives.
Despite his big-money deal with the Warriors, Tomkins has expressed an interest in one day giving rugby a go. He told The Telegraph last week that he would like to be involved in a Rugby World Cup.
"I am not one of these people who is all about league and says union is rubbish," said Tomkins. "The international scene in rugby would be what I would want to get into at some point if I could.
"To be involved in any World Cup would be amazing so to get into a union one at some point would be amazing. I enjoy watching rugby union, so I don't see why I won't enjoy playing it."
Older brother Joel used to play for Wigan until switching to rugby with Saracens in 2011.
"The feedback from Joel is all positive ... he loves playing rugby. How players get looked after in union off the field far outweighs league by 10 times."